I, Joseph McGill, know enough about architecture just to be dangerous. While my knowledge of history is adequate, I am only a historian by self proclamation. In my limited research to find out who built the antebellum buildings in Charleston, South Carolina, it has been revealed that slave labor factored heavily. From working in indigo, rice and cotton fields, the enslaved provided the wealth for many of those antebellum structures to be built.
Researching the slave tags that were issued to the enslaved revealed that many of the them worked as sawyers, cabinet makers, carpenters, iron workers, plasterers, stone masons and brick masons. Many of the plantations in Berkeley and Charleston counties made bricks. One of the most indisputable telltale signs of what the enslaved contributed to the built environment of antebellum Charleston are the fingerprints that were left in sundried bricks when they were handled too early.
I have embarked on a quest to find those fingerprints and I invite you to join me. While I have found prints at Boone Hall, Drayton Hall and Magnolia Plantations, I know that there are many more that exists and are waiting to be revealed. Your assignment, should you choose to accept, without trespassing, search those places where antebellum brick walls, chimneys, fences and foundations exist, find and document those fingerprints left by the enslaved. Invite friends who don't have access to this website to join in on the search. The ancestors are reaching out to us, let's reach back and begin to tell the real stories of their contributions to the antebellum built environment of Charleston, SC.
Have you registered for the Slave Dwelling Project Conference? It will be held in Savannah, GA, September 18 – 20, 2014. Jeffrey Harris, history consultant, will conduct a breakout session titled: Who Built America. [ngg_images gallery_ids="26″ gallery_width="300″ display_type="photocrati-nextgen_basic_slideshow"]
[caption id="attachment_3173″ align="alignleft" width="205″]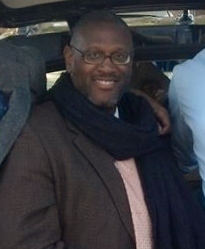 Jeffrey Harris[/caption]
Jeffrey A. Harris is an independent historian and consultant who works with historic preservation organizations and historic sites on issues related to diversity and historic interpretations. Jeffrey's past clients include Cliveden (A National Trust Historic Site), the Young Preservationists Association of Pittsburgh, Hampden-Sydney College, the Raleigh Historic Development Commission and Hanbury Preservation Consulting.
From 2005 until 2008, Jeffrey A. Harris was the National Trust for Historic Preservation's first Director for Diversity. In this position, Jeffrey served as the principal representative on diversity issues for the organization. It was also his responsibility to conduct research, compile data, and speak to organizations across the nation to expound on issues of diversity and historic preservation. Jeffrey joined the National Trust for Historic Preservation in February of 2003 as the Program Coordinator for the African American Historic Places Initiative (AAHPI). The AAHPI provided Jeffrey with an opportunity to work on a project focused on finding solutions to the challenges that African American historic places face. He served as an intern with the organization's Community Partners program during the summer of 2002.
Jeffrey has finished his coursework and examinations for a PH.D in History at American University. Jeffrey also holds a MA in American History from Clemson University and a BA in History and Spanish from Hampden-Sydney College. As an experienced public speaker, Jeffrey has spoken across the country on issues related to African American history, LGBT historic sites, the need to diversify the historic preservation movement, and the value of historic preservation in diverse communities.
Jeffrey served on the Board of Trustees for the DC Preservation League, and served as an Advisor to both the DC Chapter of the National Organization of Minority Architects and the Rainbow History Project.
To register and learn more about the conference, please follow this link: http://slavedwellingproject.org/registration-is-now-open-for-the-slave-dwelling-project-conference-2014/