With overnight stays in more than sixty extant slave dwellings, people appear to be most surprised when I mention stays in northern states. The stay at the slave quarters at the Royall House in Medford, Massachusetts seemed to test that theory the most. While some southerners take pride in the fact that their ancestors were not the only ones involved in the institution of slavery, there are some northerners still ignorant of the fact that slavery existed in northern states.
Medford, Massachusetts would not be my first venture north across the Mason Dixon Line. When this project was in its infancy, I stayed at Cliveden, a National Trust for Historic Preservation property, located in Philadelphia, Pennsylvania and the Bush Holley House in Greenwich, Connecticut. Those stays made me aware that we as a nation are less aware of the slavery that occurred in northern states but seemed meager in comparison to what I experienced in Medford.
I have learned that overnight stays that get onto the schedule long before the event occurs have the best audience turn out and participation when there are public programs involved. I also request that my hosts maximize my time when I am there. The Royall House and Slave Quarters Board member Gracelaw Simmons, was my contact during the planning process and kept me well apprised of all developments. In addition to two overnight stays in the slave quarters, the event also served as a fundraiser for the site. This was great because in addition to preservation and interpretation, the sites must be maintained and sustained and the Slave Dwelling Project is always willing to do its part.
The slave quarters was a single unit and a lot more than I expected. Originally 500 acres, according to its website: "In the eighteenth century, the Royall House and Slave Quarters was home to the largest slaveholding family in Massachusetts and the enslaved Africans who made their lavish way of life possible.  Today, the Royall House and Slave Quarters is a museum whose architecture, household items, archaeological artifacts, and programs bear witness to intertwined stories of wealth and bondage, set against the backdrop of America's quest for independence. The Slave Quarters is the only remaining such structure in the northern United States, and the Royall House is among the finest colonial-era buildings in New England." I only question the slave quarters being the only such structure in the northern United States but part of the fun in what I do is disproving such claims so the jury is still out on that one. By comparison, it would be the largest free standing slave dwelling that I would sleep in to date. When originally built, it was made of bricks and its orientation to the main house was to the rear left as one would approach from the front. A later addition to the two level quarters with a full basement extended it further forward which would physically put the enslaved inhabitants closer to the main house.
My opportunity to spend the night in the quarters would not come until the second night of my visit to Medford because my first night would be spent in a nearby hotel. This was great, but before the hotel stay occurred I had a scheduled presentation at Tufts University which is located on part of the land that was once the 500 acres of property belonging to Isaac Royall. The near capacity crowd included David Pettee, a member of the group Coming to the Table and a charter member of the Slave Dwelling Project. David, a descendant of slave owners, spent the night with me and others at the Bush Holley House in Greenwich, Connecticut. During the presentation, I imposed on him to talk about his experience. His account was a testament to the audience of how powerful this project can be because some of the audience members would be spending the night with me in the slave quarters the following night.
Day Two
One highlight of day two was a visit to Medford High School, the home of the Mustangs. I addressed two energetic classes both of which were hungry for the information disseminated. Some in the first group would be joining me, the history teacher, Jonathan Streff, and the group from Tufts in the cabin but would not be spending the night. It helped that the organizer of the class visits was a history teacher and fellow Civil War reenactor. An impromptu moment happened when I mentioned that I was written about in the book Confederates in the Attic by Tony Horwitz. In true Civil War reenactor form, Mr. Streff had the book in the class which gave me the opportunity to read the few paragraphs of which I am mentioned.
The second group was more energetic than the first. Before I could complete the request for them to ask questions a multitude of hands shot up. These young minds searching for a deeper explanation of why I do what I do made for a very exciting question and answer period that had to be curtailed due to time constraints.
Later that night, as the Medford High School and Tufts University students began to gather in the quarters, the chairs were arranged around the room in a circular pattern. We were not there long before our scheduled flash light tour of the Royall House began. We entered the house through the side door, the same as an enslaved person would have entered. When I enter similar houses, I am always obsessed about how spatial segregation was implemented in these spaces. Like other houses of this period, the Royall House had two stair cases one of which led from the winter kitchen and was used by the enslaved. As usual, the curvature and steepness of these steps would have made it a challenge to carry items up and down them which nine times out of ten the enslaved would have been lugging items up and down those stairs. The architecture of the Royall House relegated the slave to occupying the side of the house closest to the slave quarters. One inventory of the Royall House shows that pallets or bed rolls for the enslaved were also contained within these spaces.
Inside the slave quarters, we engaged in conversation about slavery. I had to keep reminding myself that slavery ended in Massachusetts in 1783. The majority of my overnight stays in extant slave dwellings have occurred in places where it took a Civil War and the 13th Amendment to the United States Constitution to end slavery. One interesting exercise was having the high school students compare their 5th grade visit to the Royall House to their flash light tour that they had just taken of the house. The most common factor was that the students were more object oriented in the fifth grade. The high school students left about 10:30 pm leaving the rest of us for the sleepover.
Day Three
While Mother Nature greeted us with sunshine the first two days, day three would be different. That would not matter much if the big fundraiser was not scheduled to be held outside. The contingency plan was implemented and the chairs for the event were appropriately set up inside the slave quarters. The rain stopped about one hour before the event started but the presentations were still done inside.
Earlier that morning we got a visit from fellow Civil War reenactor Rob Goldman along with a few of his young recruits. They travelled from Providence, Rhode Island to participate in the event.
Members of Company A, 54th Massachusetts Volunteer Infantry, Civil War reenactors also came for the event. We reminisced about gathering in Washington, DC to march in the last two inaugural parades. We also reminisced about the times that we have gone to Morris Island, SC to commemorate the Assault on Battery Wagner, the Civil War battle that was portrayed in the award winning movie Glory.
Despite the bad weather, the event was standing room only with a culturally diverse audience that was eager to learn about the Slave Dwelling Project. It was later revealed that about half of the audience was interacting with the site for the first time. Some of the audience members would be spending the night with me in the slave quarters.
While sleeping in extant slave dwellings throughout the United States has become very popular, it is my intent to assist in maintaining and sustaining these dwellings whenever possible. To that end, my stay in the Royall House and Slave Quarters was also a fundraiser. Anyone staying in the quarters on the second night had to pay $200.00 which will be used to assist in maintaining and sustaining the Royall House and Slave Quarters.
Like the night prior, those who would be sleeping in the slave quarters took a flashlight tour of the Royall House. I passed on the opportunity to join them. When they returned, we poured libations and called on the Ancestors for their blessings. I gave the group my interpretation of the Royall House. I was reminded that we should all introduce ourselves and give our reasons for being there. In the introductions, I learned that four of the people were descendants of slave owners. I've slept in former slave dwellings with descendants of slave owners before but never that many at one time. All of the introductions were quite emotional. One person travelled all the way from Charleston, SC for the opportunity to spend the night in the quarters. A local newspaper reporter was also embedded with us. The conversations were rich with the theme being slavery abolished in northern states but still benefiting from the industry in some way, shape or form.
The morning was met with tears.
We disturbed the tranquility of the Slave Quarters of the Royall House for two nights.   I am certain that the Ancestors would not mind that we convened the descendants of slaves and slave owners in a place that they once dwelled. It is these gatherings that will ensure that these places will be preserved, interpreted, maintained and sustained.
The Royall House and Slave Quarters has accepted its role and responsibility of being the proper steward for a dwelling of the formerly enslaved. Any entity bold enough to put any derivative of the word slave in their title has my respect. It is my hope that the stay at the Royall House and Slave Quarters can be leveraged to convince other entities in northern states that slavery did exist there. Not only did it exist, some of the built environment that is proof of that existence is there. As much as some northerners would love to believe that their ties to slavery in the United States involved the Underground Railroad and fighting to preserve the Union, that involvement goes much deeper because prior to 1783 Massachusetts was a slave holding state. So thank you Royall House and Slave Quarter for hosting the Slave Dwelling Project. You have now joined Cliveden in Philadelphia, Pennsylvania and the Bush Holley House in Greenwich, Connecticut in helping to utilize extant former slave dwellings to educate the public that slavery did indeed exist in northern states. We still have much work to do.
[ngg_images gallery_ids="31″ gallery_width="300″ display_type="photocrati-nextgen_basic_slideshow"]
Gracelaw Simmons
[caption id="attachment_4082″ align="alignleft" width="300″]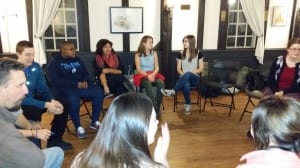 Medford Highs School and Tufts University Student inside the Slave Quarters[/caption]
Our group of overnighters included Joe McGill, two of my museum colleagues, and eight Tufts University students. Perhaps because my own children aren't much older than these young people, I found myself mothering them a bit as we prepared for sleep, making sure they'd had enough to eat, were warm, felt safe.
Lying in my sleeping bag — in a room I've been in hundreds of times for tours and meetings and programs — I listened to the sighs and rustles and gentle snoring of the sleeping people around me, and was surprised at how comforting those little sounds were. Most of us had met a few hours before, but we'd spent our time together in such heartfelt exploration and conversation that we felt close, almost like family, as we bedded down for the night.
As I lay there listening, noticing a faint odor of skunk coming in on the night air that slipped under the door, I found myself thinking of the mothers who might have slept there when the building was an active slave quarters. I wondered if their children slept nearby, and if they too were comforted by the cozy sounds of sleep. Or did those mothers always worry that things might change, that the men who claimed to own them might die, or their fortunes change, or they might simply decide to liquidate some assets, and the result would be separated families and new grief?
[caption id="attachment_4083″ align="alignright" width="300″]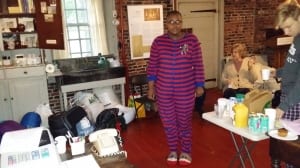 Tufts University Student the morning after[/caption]
I thought of the woman called Black Betty, perhaps to distinguish her from the many Elizabeths in the Royall family. Just two years after arriving in Medford from Antigua, Isaac Royall Sr.'s will gave Betty, her five children, and her daughter Abba's five children to his step-daughter and her husband, who lived ten miles away in Dorchester. I wondered if that bequest meant leaving her children's father, or the father of Abba's children, or other family members behind.   And I wondered if it was Black Betty's granddaughter, also named Betty, who died nine years later, at age 25, in that Dorchester household, and whether Betty and Abba were still there to mourn.
I thought of another Abba and her six children, bequeathed to Isaac's daughter Penelope in the same will, which meant a move to Cambridge. I thought of Diana and her son Joseph. I thought of Betsey and her daughter Nancy, left behind when Isaac Royall Jr. fled at the start of the Revolution, and how frightened Betsey must have been for her daughter's safety as soldiers swarmed the estate.
And I thought of Belinda, whose children, Joseph and Prine, were baptized when she was 55 years old, surely an attempt to keep them safe in this world or the next. Fifteen years later she petitioned for a pension from Isaac Royall's estate to support herself and her invalid daughter, with no mention of Joseph. Was he freed or gone? Was he safe?
In the morning, there were yawns but also hugs: we twelve had formed a bond in our brief time together, sharing the simple but somehow powerful experience of sleeping in a place swirling with history. As they headed out into the drizzly day for their walk back to campus, I realized just how protective I felt toward these new young people in my life, and I wished them a safe trip.
Catherine Sasanov                                       
[caption id="attachment_4087″ align="alignleft" width="300″]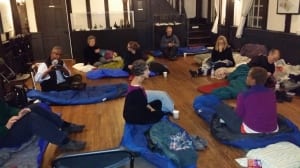 Inside the Slave Quarters at the Royall House[/caption]
How did I find myself on a Saturday night in Medford, Massachusetts, a white woman lying on the floor of the only free-standing slave quarters in New England?
In August 2015, it will be ten years since I first discovered slave holding had been a part of my own family's history. I grew up in Rockford, Illinois, with roots I knew back on my father's side only as far as his hometown of Springfield, Missouri. The Ozarks. The last place I would have thought to look towards to find slavery. But it thrived in Greene County where my great-great-great grandfather Richard Steele and his children held thirteen men, women, and children in bondage (at least nine of those people showing up as the black Steeles of Greene County on the 1870 Federal Census). Stumbling across a will had lead me to this discovery, and for years I conducted field and archival research, trying to find out everything I could about the people my ancestors had enslaved. Two articles came out of this research for the genealogical publication Ozar'Kin, and my polished notes went into the county archives in Springfield. A book of poems, from that part of the journey that couldn't be answered for me by prose, came out of that research, too.
This is part, but still doesn't fully explain how I came to find myself on the floor of the Royall Slave Quarters, lying in the light of the red "Exit" sign, listening to snores and the rustle of sleeping bags of eleven companions sharing that space.
As I conducted field research in Greene County, one thing that struck me profoundly was how a person could move there today, live out their life, and never know that slavery had been a thriving part of the landscape. It made me interested in exploring other places outside of the south where slavery had existed, but where its presence had also been eradicated or obscured. Since 2011, my focus has been on my adopted hometown of Boston as well as Kittery, Maine, which once was a part of Colonial Massachusetts.
[caption id="attachment_4086″ align="alignleft" width="300″]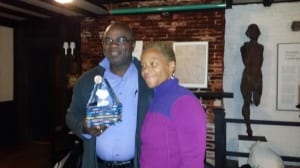 Joseph McGill and Artist Ife Franklin[/caption]
And this is how I came to find myself at the Royall House, spending the night of October 11, 2014, in its slave quarters, an evening led by Joe McGill of the Slave Dwelling Project. My companions included a minister, a history teacher, a principal, a reporter, a retired chef, writers, artists, and activists. Men and women, European and African descended. Some of us the descendants of slave holders, others the descendants of people enslaved.   Each of us who, on our own paths, in our own way, found out about Joe McGill's quest to bring attention to slave quarters (and the urgent need for their preservation) wherever they exist in the United States.
For myself, my particular desire to "keep watch," so to speak, at the Royall Slave Quarters, came out of my researching the lives of people who had a connection to the place. In 1755, three enslaved servants of John Codman of Charlestown – Mark, Phillis, and Phoebe – decided to poison him. According to court testimony, their hope was that the Codman family, upon the patriarch's death, would be forced to sell them out of financial need.  That the three were able to obtain arsenic was made possible by a man known to them as Robin Vassall.
In 1755, Robin was "the property" of North End apothecary, Dr. William Clarke. But as a little boy, Robin had likely lived, slept, and played in the house whose floor I now laid awake on. He and his family were among the people enslaved by the Royalls (Phillis, in fact, had known Robin since his childhood in the Royall household). In 1741, Robin, his siblings, and their mother Abba were taken to Cambridge when Penelope Royall married Henry Vassall. Here Robin worked and lived until 1752, when a robbery he took part in on the neighboring estate of William Brattle was discovered. Robin was whipped then sold off to Dr. Clarke in Boston.
Both the Brattle mansion (now the site of the Cambridge Center for Adult Education) and the Vassall home (a private residence), still stand on Brattle Street. Slave holding had been a part of both households, and tradition has it that the enslaved people of the Vassall house slept in the attic. Court testimony from the trial of Mark and Phillis, and the inventory for John Codman's now long-destroyed mansion, reveal that at least three, if not all, of the seven people Codman enslaved bedded down in his attic, too. New England homes that have survived from the Colonial period are frequently homes of the well-to-do; digging through archives can sometimes confirm that enslaved people both worked and slept in these houses. As I have entered these buildings over the years (or stood outside of them, since so many are still private residences), it is difficult for me not to look at those homes and not think slave quarters as well.
This is one of the challenges of recognizing slave quarters in New England; they aren't what one usually thinks of when one imagines a slave quarters, and they are frequently hidden in plain sight. As for the story of New England slavery itself: slowly it's being unearthed from beneath centuries of cherry-picked history. Tourists pay big money to come to Boston to walk the "Freedom Trail," revel in tales of Boston's part in throwing off English tyranny, and take pride in New England's glorious abolitionist past. Not so much to hear facts about slavery that complicate, to say the least, and sometimes completely upend, stories our nation has come to depend on.
[caption id="attachment_4072″ align="alignright" width="300″]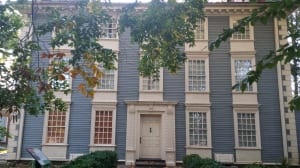 Royall House, Medford, Massachusetts[/caption]
For this reason, one of the moments I most appreciated during my stay at the Royall Slave Quarters was the tour of the mansion next door. I had visited the Royall House years before, but this time, at night and by flashlight, with the focus being on the enslaved people who kept that house running, I felt like I was seeing the house for the very first time. North and south, most house tours I've taken have been focused on furniture, architectural details, or the storied families that resided within their walls. Rarely are the enslaved mentioned, or if they are, it is usually under the euphemism of "servants." As our little group moved through the home, our lights brushed over furnishings and fine wood paneling, usually lingering upon particular objects only if they had some relationship to the people held in bondage there. The voice of our guide, Royall Board Co-President and fellow companion on the overnight, Penny Outlaw, kept our focus on what each room would have meant to the enslaved. A house of that size and status would have been a 24/7 job (rooms to be cleaned, candles made, lit, and tended, chamber pots emptied, fires kept burning night and day during cold weather, food prepared for, and served to, the Royalls and their guests, etc., etc., etc.). The most poignant reminder of that constant work was a pallet in a corner on the kitchen floor. There someone caught a bit of sleep whenever she or he could. This detail wasn't something guessed at by the Royall House Association, but a fact found in Isaac Royall's probate file: a pallet listed in the inventory of his house, its rooms, and the objects found in each one.
It was on that lonely bit of bedding that our flashlights focused the longest. I was likely not the only person among my companions thinking how, while we too would soon be sleeping on the floor, all of us chose to do so freely. And just as freely we would rise the next morning, leave the house, and go our separate ways.
Some of my companions have already written, much more eloquently than I, of their experience during the overnight and the following morning. My mind was torn much of the night between the living and the dead. What happened to Robin after the murder of John Codman was discovered is something I've yet to find out. Phoebe supposedly saved herself, turning evidence against Mark and Phillis. Tradition says she was shipped to the West Indies. But in John Codman's 1759 probate file, she's still listed among his property: one of five enslaved people still sleeping in the attic on "five straw beds" surrounded by broken windows. On September 18th, 1755, between one and five o'clock, Mark and Phillis met their end in two brutal, court-ordered executions a short walk from Harvard University. Mark was hanged then his body placed in a gibbet. For almost 20 years, near the site of the current Sullivan Square Station in Somerville, his remains hung in a man-shaped cage: a human warning sign to other bondsmen and women not to murder their masters. Phillis was burned to death – the second and last enslaved person in Massachusetts to meet that fate, the first being Maria of Roxbury in 1681.
Were the enslaved men, women, and children of the Royall household brought to Cambridge to witness the killing of people they knew? People who, like Robin, some of them might have even been related to? What conversations, curses, silences, tears, and prayers did they release in this room I was now resting in, my night marred only by snores?
And what were the thoughts of the man, woman, or child left alone on that pallet, curled up on the kitchen floor?
[caption id="attachment_4091″ align="alignleft" width="300″]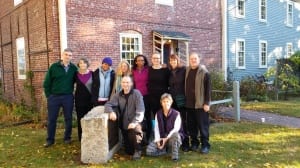 Those who spent the night[/caption]
I am so grateful to the Royall House Association (especially Gracelaw Simmons and Penny Outlaw), to Joe McGill and his Slave Dwelling Project, and the rest of my companions in the Royall Slave Quarters. It was an honor to be among people willing to begin the awkward, hard work of reckoning with a past that so haunts our present.  
Giving Voice- The Slave Dwelling Project – Overnight at Royall House & Slave Quarters, Saturday, October 11, 2014
Ellen W. Sullivan, MSW
Licensed Independent Clinical Social Worker
Each of us had a story – our personal reasons for being there. Some had an interest in the history of slavery in the U.S., and in the preservation aspect of Joe McGill's Slave Dwelling Project. Some had ancestors who had been enslaved, and were there to honor them with grief and dignity. And then there were those, like myself, who had ancestors who enslaved African people going back as far as the 1700's.
[caption id="attachment_4073″ align="alignright" width="300″]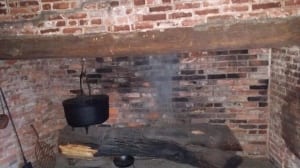 Hearth inside the Slave Quarters[/caption]
The old slave quarters, home to enslaved Africans who toiled for the Royall family in Medford, Massachusetts is far away from where my family held slaves in Hermitage, Georgia down in Cherokee country in the 1800s. Felt different from my ancestors' home down in the foothills of Georgia Appalachian country with its scratchy crab grass and red clay hardened from the brutal heat of summers. The Royall House's slave quarters were older, and the main house was fancier. But the Royalls of Medford, MA and Watters of Hermitage (now Shannon), GA each had enslavement in common.
[caption id="attachment_4117″ align="alignright" width="300″]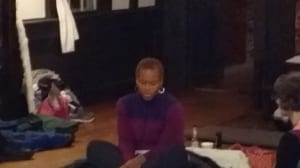 Ife Franklin[/caption]
We got started with a ceremony led by Ife. Pouring libations, we called to the ancestors; our individual ancestors whose souls and spirits would be with us through the evening. I called to my father, Pat Watters' spirit to be with me during the overnight. He would have wanted to be here, I thought as I stated his name. He would like to see that I've continued his legacy of searching for truth and healing and understanding and imparting the story of the South and its struggles with race. After I said his name, shaky, resolved, I heard the others saying Ashe! Ashe! A Yoruba word, somewhat like Amen, but more powerful, affirmative, "so be it!" And my resolve to be here, to be with Dad's spirit, was affirmed.
And I felt the strength of that word and that affirmation go through me, then through the circle, and then there it was, the connection between us all. Though there for separate reasons, a collective purpose emerged, spiritually, emotionally, quietly. I felt deeply grateful to be there.
I felt sadness and shame that I did not know the names of those whom my ancestors enslaved; but I did think about them, affirmed them in my heart and mind. I thought about the slave schedules I have poured over many times, looking for any clues (there are none) as to whom some of those people were. They were:
Male, B 65; Male, B, 58 (escaped!);   Female, B, 50; Male, B, 50; Female, B, 47;   Female, B, 45; Male, B, 40; Male, B, 35;     Male, B, 35; Female, B, 32; Male, B, 32;   Female, B, 31; Female, B, 30; Male, B, 29; Male, B, 25; Male, B, 22; Male, B, 22; Male, B, 21; Male, B, 19; Female, B, 17; Female, B, 12; Female, B, 13; Female, B, 11; Female, B, 11; Female, B, 10; Female, B, 10; Female, B, 10;   Male, B, 5; Female, B, 8; Female, B, 8;Male, B, 8; Male, B, 8; Male, B, 8;   Male, B, 6; Male, B, 4; Female, B, 4; Male, B, 4; Male, B, 4; M, B, 3; Male, B, 3; Female, B, 3; Male, B, 1; Female, B, 1; Female, B, 6 months; Female, B, 6 months.
(Schedule 2 – Slave Inhabitants in Livingston District, in the County of Floyd of Georgia, July 1860).
[caption id="attachment_4080″ align="alignleft" width="300″]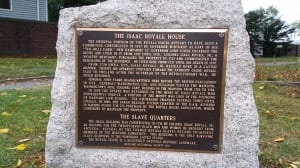 Royall House and Slave Quarters[/caption]
We walked through the big Royall house mansion, next door to the Slave Quarters, flashlights beaming on fancy hand painted Delft tiles carefully laid around the massive fireplaces, still beautiful, one of many signs of wealth in the home. Another, the antique brass chandelier, with its boastful hand hammered curly- cues gleaming in the flashlight glow. The faux marble fireplace columns standing in the 'Marble Chamber', the master's bedroom where the fire was kept burning day and night by enslaved people whose job it was to keep it going at all times so the master would not get cold.
There were the life- sized oil paintings of the Royall family – Colonial era style with eyes that seemed to follow us through each room, keeping a stern watch as we walked through the rooms. 'Are their ghosts in the house?' I wondered more than once as we walked through. Do they still wander about the big old house, making grand entrances down the staircase, and what do they make of us?
[caption id="attachment_4116″ align="alignright" width="300″]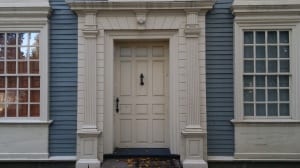 Royall House[/caption]
And what about the spirits of the enslaved who lived and toiled there? Their lives not honored with oil paintings or memorialized bedrooms, but they were present everywhere if you paid attention. Underneath the opulence and glow and beauty of the home, their story was told. Inside each of the rooms, they were there. They were present in the stairwells, in each worn out step, curved down and bowed by the constant climbing up and down, up and down, up and down. They were right there before us, in the kitchen -by the old wooden butter churn that sat charming and squat by the milk dishes where the cream would separate from the milk to be poured and churned into butter. Right there at the hearth by the beehive ovens and the fancy brass spit where the bread was baked and the meals were cooked night and day. And there, working at the old wooden table scarred from all the cooking, cleaning, cutting and scraping.   Their spirits were restless right inside that room – next to the big cook fireplace where on thin cotton sleep pallets pulled out of the shadows of the corners of the room they would lay for a few brief moments of relief from the endlessness of their work. The rooms held their stories hidden in plain sight. We just had to look closer.
We went back to the Slave quarters, and I spent a restless night of tossing and turning as the reality of their lives sunk in on me some more. I awoke early the next morning to the sound of someone of us crying; the pit in my stomach gave way to tears in that moment of grieving and sadness.
The movie Twelve Years a Slave slapped me into a deeper awareness of the utter brutality of slavery. I came out of a comfortable fog, dimmed awareness, something bad back there happened but we keep it behind us, just out of sight. Not that I didn't know it was bad, but the movie brought home the violence of slavery in a way I had not fully faced before.
By sleeping in the Slave Quarters, slavery came to life in another way – it made real the day –to- day unrelenting work required of the enslaved. I realized the physical and psychological demands that were placed upon them – in some ways more subtle than brutal whippings, yet no less and perhaps more dehumanizing.
It was this dehumanization of the African enslaved people that made it psychologically possible for my ancestors to do what they did, for the Royall's and all the other people who were enslavers to justify such brutality and cruelty.   The legacy of this dehumanization has followed us to this day and contains the roots of racism.
By giving voice to those who had none we can hear and see and feel the truth about their lives, honoring them and their experiences. Being there with those whose ancestors were enslaved, with the spirits of the ancestors enslaved there, was in part an acknowledgement, as the ancestor of a slaveholder, of my family history. Apologizing can't undo the harms they committed; but to all, I am deeply sorry.
Darkness Illuminates
Jenny Allison
Tufts University 2017
"Okay, everybody ready? Turn your lights off."
The darkness is absolute. Everyone in the room falls silent; our breaths are raggedy from the cold scratching at our throats. The only illumination is a hazy purple-ish color, seeping in from the neighbor's porch lights.
[caption id="attachment_4123″ align="alignleft" width="300″]
Royall House and Slave Quarters[/caption]
 "The family who lived here wouldn't have even had this amount of light," Gracelaw, one of my companions, mentions. "They had no neighbors. It was just their family for 500 square acres."
If anyone would know, Gracelaw would. She serves on the volunteer board of the Royall House, a preserved colonial estate and corresponding slave quarters in Medford, Massachusetts. The estate is a working museum; local area residents can visit and learn about the Royall family, who inhabited the mansion over multiple generations.
But at night, the rooms are cold and dark. No electric lights cast illumination over the sparse wooden furniture. In the small kitchen, our flashlights gleam eerily over rows of identical engraved silver plates. In the pale reflected light, I stare at the boxy wooden table and wonder who might have sat there on other cold nights, staring at a candle or speaking in hushed tones.
"The slaves were here every night long after their masters had retired to bed," Gracelaw continues. "They were always the last to go to bed and the first to rise." She gestures to a meager pile of what looks like scratchy cotton pillows, lumped haphazardly in one corner. "One or two might have even slept in here."
 My breath steams in the light of my headlamp, and I wonder how people were able to sleep when it was so chilly every night. After all, I am here, at least in part, to commemorate their experience: I am here to honor the hundreds of slaves who slept every night in these very spaces. And I do mean hundreds—the Royall family documented roughly 500 slaves in their possession over the course of a few decades.
 In the slave quarters themselves, there is electric light and heat; our actual sleeping experience is quite comfortable. Lying in the darkness, surrounded by the quiet breathing of a handful of other Tufts students and our adult companions, I do not feel distressed. Though the history below my sleeping bag is sobering, it is difficult to feel agitated when so many people surround me. Being able to share a heavy experience with even one companion lightens its burden. Part of this makes me hopeful—hopeful that slaves were able to find true comfort in their enslaved companions, their families, their children. There is power in sharing, especially when it comes to pain, and that power should not be overlooked.
 As I stare up into the blackness, trying to make out the ceiling, I marvel at how significant my experience would be to someone descended from slaves. For as captivating, and as meaningful, as this space is to me, it is more personally meaningful to somebody else.
[caption id="attachment_4089″ align="alignleft" width="300″]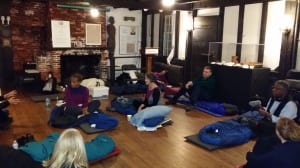 Slave Quarters at the Royall House[/caption]
My thoughts on this matter naturally shift to musings about the importance—perhaps even the cultural necessity—of historical space. Knowing a history, a personal story, is one step, but being in a place where such a thing really happened feels different entirely. The cold and the darkness make the experience more real than objects in glass cases ever could.
 My fingertips are cold. I wonder how slaves slept to keep warm—curled up in a little ball?
 And what about people who do not have such spaces? What of Native Americans who cannot return to well-preserved dwellings and connect to their ancestors that way? How can they preserve their history in an equally compelling and meaningful way? I do not know.
The questions swirl in my brain—and I know deep down that we may never find their answers. But we do know how to ensure that we keep asking these questions—we do it by doing what we are doing, by doing what Joe McGill is doing. We bring attention to these spaces, and we interact with them, and we revive them and fill them with our energy, creating a sort of bond arcing back through the centuries to touch the people who were enslaved here so many years ago.
And as I lie there, curled in a little ball, my eyes sinking shut, I do truly feel as if I have gained insight tonight. Because even though I will never be able to know what it really felt like to go to bed each night a slave, I can begin somewhere.
 We have begun here.
Please access the links below for additional accounts of spending a night in the Slave Quarters at the Royall House in Medford, Massachusetts.
https://www.facebook.com/notes/fred-small/sleeping-in-the-slave-quarters/10152422892952513
http://deemallon.wordpress.com/2014/10/14/reflection-on-night-in-slave-quarters/
http://www.boston.com/news/local/massachusetts/2014/10/12/tour-america-slave-houses-leads-medford/rCk4Toke9XztrYBa5XEVCM/story.html#comments
http://medford.wickedlocal.com/article/20141015/NEWS/141018488/?Start=3
 https://sites.tufts.edu/museumstudents/2014/10/22/accuracy-vs-authenticity-in-slave-quarters-reflections-and-a-call-to-action/