The Slave Dwelling Project came into season four with high expectations.  For the second consecutive year, the first stay would occur at Hopsewee Plantation in Georgetown County, SC.  Owners Frank and Raejean Beattie have unofficially adopted the project and allow it to prosper at the site.  This would also be the second consecutive year that the project would collaborate with the group My Brother's Keeper.  This program helps young men and women break free of the debilitating effect of long term indebtedness to the judicial system.  The program assists participants in making the successful transition to becoming responsible, productive citizens who will thrive economically, and contribute positively to their community.  Last year, seven young men from this program and their chaperones, joined me in the stay at Hopsewee, this year eleven young men were expected to participate.
Mother Nature would not make this an easy stay.  All of the days leading up to the stay were unseasonably cold with constant rain.  The predicted low for the overnight night was near freezing.  I did not fear that prediction because like last year I knew that we would be capable of using the functional fire places in the cabins.  One major difference in this year's stay was that we would be needing the use of both cabins.  The project's popularity has people vying for the opportunity to immerse themselves in the project by spending a night an extant slave dwelling.  Marion Aldridge, a retired minister from Columbia, SC and Kyle Obenauer, a graduate student from Delaware had reserved themselves a spot for the Hopsewee stay.  I met Kyle the day before at Hampton Plantation a state owned site located in close proximity to Hopsewee.  So in addition to the eleven young men and their three chaperones from My Brother's Keeper, Marion Aldridge, Kyle Obenauer, Terry James who sleeps in shackles, would be conducting his 26th stay in a slave cabin and he was bringing his two sons; Prinny Anderson, the descendant of Thomas Jefferson, would be joining me for her sixth stay in a slave dwelling.  Anticipating 21 people, it was appropriate and more than courteous that owners Frank and Raejean Beattie granted us the use of both cabins.
Unfortunately, things did not turn out as planned.  An ice storm and power outage in Durham, NC kept Prinny Anderson from making the trip; an illness by the wife of Terry James kept him from making the trip; only eight of the anticipated eleven young men from My Brother's Keeper made the trip.
I arrived at the site at my anticipated time of 5:00 pm.  There was a lull in the misty rain that was going on all day that allowed me to start taking pictures of the property.  Slowly everyone who would be sharing the experience began to make it to the site.  Some of the young men, all too young to drive, were dropped off by their parents and reporting to their chaperones.
Like last year, the participants would get a bonus.  Anyone paying $40.00 would be treated to dinner theater.  The performance titled:  Stories from the Big Book of Gullah which involved storytelling from Artist Zenobia Washington who was raised in the port city of Georgetown, SC and influenced by the Gullah culture and Sophia Jackson, a native of Georgetown, SC and a longtime lover and pursuer of the arts.   The menu did not disappoint for it included: Pirleau, shrimp and grits, chicken gumbo, pulled pork, collard greens, macaroni and cheese, sweet potato casserole, pimento cheese biscuits and bread pudding.  Though the crowd was not as robust as last year, the performance was as educational and it was entertaining.  Before the performance, I got the opportunity to address the group about the Slave Dwelling Project.
After dinner in the Tea Room the overnighters retreated to the un-comfort of the slave cabins.  The young men and their chaperones to their designated cabin and me, Marion and Kyle to ours.  After stoking the fire and adding additional logs, the three of us went over to the other cabin to engage in conversation in which I found myself being more of listener than a presenter.  The young men had occupied one side of the cabin and were bonding well.  The adults occupied the other side where the meaningful interactions occurred.  We were eventually visited by owners Frank and Raejean before they turned in for the night.
When Kyle, Marion and I retreated back to our cabin, meaningful conversation continued about the impact of the Slave Dwelling Project for I knew that once I laid down my chance of continuing to carry on a coherent conversation was little to none. Before I laid down, I ensured that, despite the cold, the cabin's windows were up enough to let out any excess smoke. We all then went to sleep with each of us getting up periodically to add wood to the fire.
That morning we all took our obligatory group photographs before Reajean feed us a hearty breakfast of shrimp and grits, eggs and biscuits.  Before I left, I engaged in a conversation with Frank that involved finding a permanent home for the Slave Dwelling Project.  That is of course a lot for the board of directors to consider.  As avid followers of the Slave Dwelling Project, you will be kept apprised of how that conversation continues to develop.
[ngg_images gallery_ids="12″ gallery_width="300″ display_type="photocrati-nextgen_basic_slideshow"]
The Slave Dwelling Project – By Kyle Obenauer
Hopsewee Plantation
[caption id="attachment_1479″ align="alignleft" width="199″]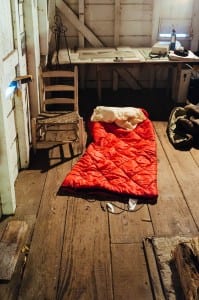 Sleeping Bag in the slave cabin at Hopsewee Plantation[/caption]
Spending the night in a former slave cabin with the Slave Dwelling Project at the North Santee's Hopsewee Plantation was undeniably a powerful, emotional experience. The historic built and natural environment around us tells a story; it is up to us and preservation advocates like Joseph McGill and the Slave Dwelling Project to help interpret the layers of history that surround us, and find the words that can thread the stitches and repair the tears of our past as we weave the fabric to support and preserve these historic, cultural resources, and learn, together.
As a young historic preservationist and New England tourist visiting the South, it quickly became apparent to me that the field of historic preservation, and an overwhelming majority of stewards of historic places, interpreted historic sites and their resources in a way that did not tell the whole story or represent all of the people, past and present, who collectively make sites and landscapes significant, especially when those sites relate to African-American culture and slavery. It was clear that the hands of slaves touched every part of Hopsewee; this is not always true. It is the efforts of Hopsewee's owners, preservation advocates such as the Slave Dwelling Project, and the public, that allow present and future generations to interpret and experience a tangible, essential part of America's past and African-American culture here and elsewhere by striving toward "whole place preservation."
The private owners of Hopsewee were gracious enough to invite the Slave Dwelling Project and its guests to stay the night and tour their home. After a generous tour, guests were invited to Hopsewee's tearoom where a wonderful meal was served. Here, Framework's Zenobia Washington and Sophia Jackson performed Stories from the Big Book of Gullah. By late evening, those spending the night began stoking the fires of each cabin, heating the drafty interiors in preparation for a night of meaningful conversation. The following morning, the guests were treated to a kind breakfast in the tearoom, from which we all departed shortly thereafter. Complete strangers from all parts of the country, of all ages, races, and classes, were brought together by the Slave Dwelling Project on this night.
[caption id="attachment_1487″ align="alignright" width="300″]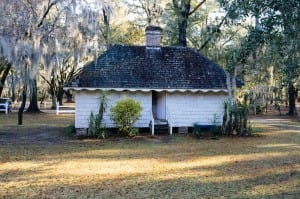 Slave Cabin at Hopsewee Plantation[/caption]
You are reading this for a reason; these places matter. The Slave Dwelling Project has inspired me, like so many others, to continue to help tell the whole story and advocate for the preservation, documentation, accurate interpretation, and education of extant and destroyed slave dwellings, as well as other significant, irreplaceable historic resources connected to African-American culture and history. My experience spending the night with the Slave Dwelling Project and the other guests at Hopsewee has changed my life, but it is the lives of those slaves who lived in the plantation cabins or urban slave quarters located in the South, New England, or elsewhere that deserve all of the attention, appreciation, and memorialization that the Slave Dwelling Project and other organizations cultivate on their behalf.
Marion Aldridge
[caption id="attachment_1473″ align="alignleft" width="300″]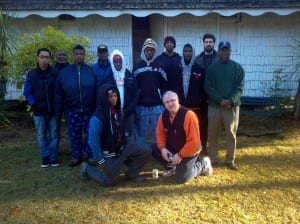 My Brothers Keepers at Hopsewee Plantation[/caption]
As I prepared for my stay with Joseph McGill and a dozen other men and teenage boys at the two remaining Hopsewee slave cabins, I was aware of the differences in my venture, as a twenty-first century free white man, and the life of an eighteenth or nineteenth century slave:
I came as a free man.  A slave arrived as someone's property, a commodity that could be bought and sold or abused at the will of the owner.
I drove to Hopsewee Plantation from my home in Columbia, South Carolina, encumbered by nothing more than a seat belt.  A slave arrived on foot, possibly in shackles.
I could leave Hopsewee whenever I chose to.  A slave did not have that option.
I could prepare as prodigiously as I desired, stocking up on all the warm clothes, sleeping bags, flashlights, toothpaste, water, and medicine that I felt I needed or wanted.  If I wished to have something else, my car was parked outside and I could drive into Georgetown or Charleston.  A slave had none of those options.
I took a book to read if I had spare time.  Most slaves were illiterate and owned few or no books.  On some plantations, reading was outlawed for slaves.
I could stay inside the slave cabin in front of the comforting fireplace if the weather was cold and wet.  Slaves did not routinely receive days off for inclement weather or sickness.
I traveled to Hopsewee as an educational adventure.  A slave was taken to Hopsewee for the purpose of providing free labor for the owner of the plantation, receiving room and board to perform assigned, compulsory tasks.
My involvement was defined by choice.  A slave's experience was defined by constraint, powerlessness, limits and someone else holding almost complete control over the slave's daily existence.