I had seen her kind before, young, energetic, enthusiastic with the penchant do the right thing only to go back to sell the idea of the Slave Dwelling Project to a board of directors whose interest is to maintain the status quo. Fairleigh Jackson is the Executive Director of Preserve Louisiana which is located in Baton Rouge. I met Fairleigh at the National Preservation Conference which was held in Houston, Texas in November 2016. She attended a panel discussion of which I participated as a panelist. After the panel discussion, she introduced herself to me and gave me an invitation to come to Baton Rouge. I walked away from that conversation thinking that there was no way that Fairleigh was going to convince her board of directors to buy what I was selling.
Low and behold, she made it happen.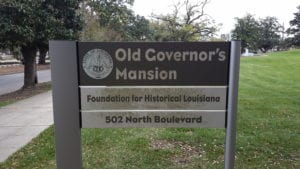 Not only did she make it happen, but she organized a program at the Old Governor's Mansion in Baton Rouge that was superb. While I am accustomed to sharing the stage with other presenters, I was not prepared for this one. Presenting with me was Maxine Crump, a descendant of one of the enslaved people who was sold by Georgetown University, in Washington, DC to settle a debt. I learned from her presentation that the enslaved people were donated to Georgetown University by parishioners. As if living your life as an enslaved person was not bad enough, now you are donated to a university for the purpose of being sold to keep that university solvent. That is a lot to forgive. And people often ask me if I attempt to commune with the Ancestors. The answer is an emphatic no! I do not have to commune with the enslaved Ancestors to know that they suppressed a lot of anger just to survive. Tapping into suppressed anger could be dangerous if you are not prepared to deal with the consequences.
I have spent nights in two slave dwellings in Louisiana. My first was Evergreen Plantation in Edgard and my second was Magnolia Plantation in Derry.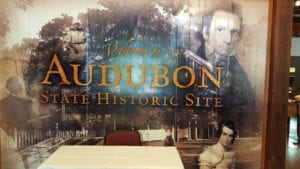 Fairleigh decided that the best time to get me to Baton Rough was when the Audubon Pilgrimage was taking place in St. Francisville, Louisiana. My experience with pilgrimages has been mixed. The pilgrimages tend to give the participants the opportunity to view historic homes with little to no attention given to extant slave dwellings. They tend to favor the "Gone With the Wind," sugarcoated, watered down, mint julep, hoop skirt, type of history. You know, that type of history that caters to comfort zones. While Fairleigh had the backing of her board or directors, she had to jump through some hoops to get me a sleepover in the slave cabins at Oakley Plantation in St. Francisville because they were not buying what I was selling. Oakley Plantation is a Louisiana State Park and is best known for its association with the world renowned John James Audubon. I am personally convinced that John James Audubon was a Black man based on the race of his mother, but I am prepared to fight that fight another day. Fairleigh's ability to get me a sleepover at the site was more than satisfying for me, and it was my first out of state sleepover for 2017.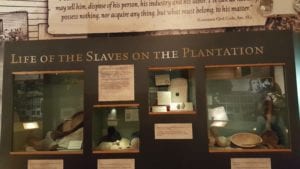 I must admit that I was thoroughly impressed by the permanent exhibit in the museum that did not sugar coat the slavery that existed at the site. Contained in the exhibit were some of the first names of the enslaved. It was common that the enslaved would be given the first name only. Creating meaningful exhibits is why it is powerful when the research is done to give the enslaved names. It is even more powerful when that type of information is on public display in a museum. I hope that the site is doing what is necessary to interact with the descendants of those who were enslaved there.
I hope that I did not come off too cold and callous when I passed on a tour of the big house. I missed out on the opportunity to see how the enslaved may have accessed the house. Spatial segregation is a concept that is of interest to me.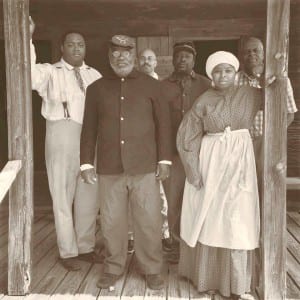 I was impressed to see that in the kitchen that not only was the hearth functional, but it was being used to demonstrate period cooking techniques. Thoughts of bringing in our team of African American living historians to demonstrate the cooking were dancing in my head, never the less, the food that was prepared was marvelous.
The two slave cabins were authentic but were moved there from another plantation. They both had a front and a back door which was unusual. One cabin had a rope bed which probably would not have been the case during slavery; pallets would have likely been used for the enslaved. This cabin also had a functional fireplace. The two cabins would easily accommodate the eight of us who planned to spend the night.
I positioned myself on the porch of the closest cabin to the big house. The visitors were surprised that I would be spending the night in the cabin. There was only one person that I encountered who came with the knowledge that I would be spending the night in the cabin. She ended up hanging out with us long after the park closed so that she could engage in the conversation but we could not convince her to spend the night with us.
Overall, the visitors were quite receptive to my interpretation of the space that the enslaved inhabited, however, I did witness a few people who would not venture over to the slave cabins. Those people who did not choose to visit the slave cabins were afraid to confront an element of the plantation that made them uncomfortable.
There were supposed to be eight people staying in the cabins, but only three of them showed. The no-shows made my host Fairleigh a little upset because she had already taken a beating from within her circle of friends and colleagues for pulling off such a daring feat of bringing me there to implement the Slave Dwelling Project. While she has the support of her board of directors, I could not assure her that there would not be more push back if she continues on the path of making Preservation Louisiana more inclusive of all cultures. I could only assure her that I will do my part when called on to ensure that the stories of the enslaved Ancestors are included.
All three of the ladies who would be sleeping in the cabin met each other for the first time at the site. One lady stayed for the conversation portion of the experience only. We could not convince her to spend the night. One of the young ladies who would spend the night came from New Orleans to participate, and the other came from Baton Rouge. The young lady from New Orleans and I had communicated long before the sleepover happened and she was determined to participate.
With only four of us, we decided that we would not need the use of the second cabin. With the overnight temperature predicted to hover around 55 degrees, I decided that I would sleep on the porch of the cabin.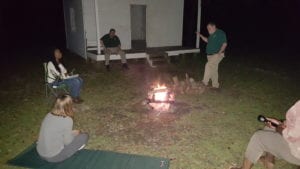 Before bedding down, our conversation around the camp fire was richly enhanced because the park manager and chief interpreter joined us. Their presence meant that we did not have to speculate about any aspect of the park's history. We learned from them that descendants of some of the enslaved at the site gather there once a year for a family reunion. We also learned a lot about the wildlife that could visit the site. The only thing I regret is not broaching the subject of John James Audubon's race.
The next morning, I learned that the lady from Baton Rouge who spent the night was expecting a different experience. What she expected was similar to what we do as living historians when we sleep at the site and conduct costumed living history the following day. This program is titled: Inalienable Rights: Living History Through the Eyes of the Enslaved. She may be in luck because the staff at the park was already contemplating on when I could come back to the park for a sleepover.
Now that they know that I come in peace and I mean them no harm, the potential to work with Oakley Plantation in the future now exists. So, Fairleigh and her board of directors may face some more push back if they continue on this path of having Preserve Louisiana embrace all cultures. We need more like Fairleigh to tinker with comfort zones.
The Slave Dwelling Project Experience
By Fairleigh Jackson
I first met Joe McGill, founder of The Slave Dwelling Project, in Washington DC at the National Trust for Historic Preservation conference in November of 2015. From the moment I heard of his project, I knew it was something we as an organization, and I personally, wanted to be a part. As a new executive director, I had many challenges to face in my first year. After seeing Joe again in November of 2016 in Houston, I committed to doing the best I could to bring his project to Louisiana again.
We faced a challenging summer in Baton Rouge in 2016. The police shooting of Alton Sterling, the shooting of police officers by a visiting protestor, and the floods that devastated our community, proved a need for honest reflection on race relations in our area and state. I felt that now, more than ever, was an opportunity to provide an experience, not just a dialogue, that visited our reality – one that might answer questions about the present by taking a good look at our past. As a preservationist and participant of Dialogue on Race, I see these discussions and experiences as a critical piece of understanding where we are today.
My experience in planning Joe's visit seems just as much of an important reflection as my actual experience in sleeping in the slave cabins at Oakley Plantation. While I don't consider myself naive in our community's ability to look at our history, I must admit I was not quite prepared for the challenges I would face, and the frustration I would feel, in garnering support for The Slave Dwelling Project. I was told by one group that had initially supported the project that they then were removing themselves for fear of how the project would be perceived. While a handful of people actually contributed financially to the project, and we met our registration capacity of 8, only 3 of us actually showed up. And finally, I was challenged with the question of whether or not I, or people "like me", white and entitled, should be comfortable enough to sleep in a slave cabin. There were moments I felt defeated, empowered, and lost in my own skin all at the same time.

While I saw the Slave Dwelling Project as a way to understand and interpret the real history of plantations, it became more of a way to question, challenge, and look personally at how we, as white people, make our own efforts to understand history. I know I am the descendent of slave owners. I have seen the papers documenting the purchase of slaves, where they are described as property, in terms like "wench". My heart sank when I saw the evidence that validated my fears – that I had slave owners in my bloodline. It reiterated to me that I had to do all that I can to be honest about the wrongs of the past, whether or not that means putting myself in a place of vulnerability and criticism from both white people and people of color. As someone led by my heart, I followed and pursued the project by going to the leadership needed to make it happen.
My experience with Joe, and the project in general, was one that I felt comfortable in doing what felt right and with open communication, I believe was of great benefit to all who were involved. Joe's willingness to participate in a lecture/presentation at our venue the Thursday prior to the sleep over, in conjunction with Maxine Crump (director of Dialogue on Race and descendants of slaves were sold as part of a Georgetown University debt payment), and the ease at which he engaged in such dialogue, provided the perfect setting for an open experience at Oakley Plantation. Joe and Maxine presented a Living History Lesson where our audience was engaged and encouraged to ask difficult questions.
While our group for the sleep over was small, it provided an intimate setting to discuss the real history of slavery as a part of Oakley. The Louisiana State Park employees, who are the stewards Oakley Plantation, John House and Daniel Wilcox, joined us early in the evening around the fire to discuss history specific to the slaves at Oakley. They told about documented accounts of run -away attempts, secretly literate and brave slaves who facilitated escapes, and the descendants of slaves who hold their family reunions on the property. As I looked beyond the fire into the darkness, their stories, and Joe's stories of comparable slave experiences around the country, provided a glimpse into a world I knew I could never understand.
As the night turned darker, the stars brighter, and we all retired, the stillness turned my reflection more inward. I retired to a cabin by myself, as the others slumbered in a cabin hundred yards or so away. I lay on the porch in my sleeping bag, looking towards the main house, where the lights of the bottom floor remained. I thought about that perspective, to look at what you could never have or own, as someone who was property and owned. Other thoughts included an uncertain future for your children and family members. As a mother I lamented on the stress and fear I would have had regarding the future of my children. As a woman I reflected on my present marginalization as a woman but more so, on my vulnerability as a slave – a truly fearful thought. I then turned my thoughts to that of a daughter, or wife, of slave owners. As a slave owner. Would I have taken the risks I do today to bring such subjects to the forefront of discussions? Would I have been okay with that era's status quo? I think because there is no way to answer that question, this experience inspired me to continue my journey – to keep the discussion alive, to embrace projects like The Slave Dwelling Project, and to be criticized, or acclaimed, for my efforts in doing so. The courage it takes to keep dialogue alive, and promote projects like Joe's, pales drastically in comparison to the courage it took to live a life of enslavement or make an effort to escape a life that is never your own.
Slave Dwelling Experience
By
Kenetha Lanee
I didn't want it to be "just another experience". I wanted it to mean something. I wanted to feel something. It didn't matter the feeling. I was open to anger, sadness, excitement; curiosity…any number of emotions would have sufficed. So, when I returned home from my overnight stay with the Slave Dwelling Project, I couldn't surmise why I felt nothing. Emptiness wasn't even a term I could use to describe what was going on in my mind because there wasn't room for emptiness. To fill a void, there must be space. I had none. It was as if all my compartments were full, or non-existent. I'm leaning towards the latter.
Part of my job, in which I somewhat failed, was to write about my experience as an individual who prepared, planned, and executed the task of sleeping in a Slave Cabin. That's right…Sleeping in a Slave Cabin on the grounds of a plantation. The Slave Dwelling Project is the organization I joined forces with to embark on this endeavor. Their mission is to bring awareness to, and preserve the dwellings of our enslaved ancestors because we all know what slavery is….But do we truly know? Can we truly appreciate the suffering, and perseverance, of those who came before us? Might we feel what they felt? I wanted to do that, but it wasn't as easy as it seemed.
Before, I delve deeper into my lack of feelings; I'd like to go into brief detail about my overnight stay. I arrived at the Plantation, located in St. Francisville Louisiana around 5:30pm. Oakley Plantation was the name of the big house and all its surrounding landscape. I drove down the winding dirt road, and towards the back of the Plantation Grounds. Slave Cabins are normally located at the rear of the Big House, so I didn't think twice about parking in the front.
I exited my car and walked down another dirt path that led to a spacious plot of land, and two tiny white cabins. I was nervous, but excited at the same time. You see, history, black history specifically, antebellum black history to be even more specific is one of my areas of interest. I've spent many years researching and learning about life for blacks' pre-civil war. I've done my own family history research and have visited a few plantations in my time. So, the thought of being able to learn through a hands on experience such as this, was beyond my wildest dreams.
I walked to the first cabin, and met the founder of the Slave Dwelling Project, a sharp, well informed individual, and the rest of the slave dwelling attendees. Everyone was cordial, and kind. It would be 4 of us staying overnight. After brief interactions, I realized I wasn't the only one a little unsure, and nervous. For most of us, this was our first time experiencing something like this.
Oakley Plantation is not too different from most southern plantations in that it was two stories, white, had massive amounts of land, and used black bodies to maintain it. The cabins we slept in were not original, but possibly built sometime in the early 1900's and housed many sharecroppers who in my opinion were living in a different form of slavery.
The evening was warm, and the air was thick. Most plantations are heavy to me. I always feel this overwhelming sense of weight. Not literally, but the energy is always busy and unsettled. For most of the evening, I, and the other attendees talked. We camped out on the porches and talked about everything from slavery to politics. I for the most part preferred to observe rather than constantly speak. For some reason, I was rendered speechless for most of my stay. It didn't feel right to keep talking, and talking, and talking. It began to feel like we were talking over someone. Maybe the voices of those who lived in the cabins and on the grounds. No one may have heard them, but they were speaking loud and clear. I felt it. And those voices humbled me.
And they shut me up. The most challenging part of the ordeal was sleeping. I woke up about 10 times that night. Two of us slept in the inside of the cabin, and two were on the porch. We slept on the wooden floor. That was better than dirt I suppose…because some cabins had no floors. I had a pillow and a few blankets. That was luxurious. The floor was hard. It hurt. I was scared of bugs and other small visitors that might enter the cabin. The doors of the cabin didn't close so we were exposed to all the outside elements. It wasn't cold…but I was. I was terribly uncomfortable. I kept my flashlight on the entire night. At one point I'm sure I heard possums and armadillos outside the cabin. The coyotes were howling too. And then there was the light coming from the big house. The Big House was set directly in view of the cabins. You could never escape it. So, I imagined that those who lived in the cabin woke up and went to sleep every day with the sight of a big beautiful home beyond their reach. How agonizing. The big house was a reminder of what they would never have.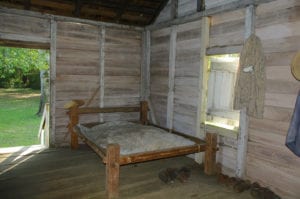 One good thing about practically sleeping outside is how quickly you adapt to dirt, bugs, moonlight, sunlight and nature. I felt connected to all the elements that night. It was around 3am when everything settled. The coyotes stopped howling…the possums stopped rustling. All was still. It was quiet and dark. I finally felt some comfort. I felt like I could sleep without one eye open. And not surprisingly I felt a lot of spiritual energy during this time. 3am is witching hour right? It's as if those before were finally able to live again through me. I could feel their presence. While we were trying to sleep, they were woke. And since they were woke…I could finally sleep. They would protect me. Like they always did…from the whip, from the branding, from the hangings…their toil protected me…even in 2017.
Morning came, as it always does and I had to relieve myself. Thankfully, we had access to outside bathrooms. As I scurried past the big house to the small bathroom after a night of hard sleep, I could not help but think what I would have done as a slave to have access to the big house. And then I began to think about what my ancestors might have done to improve their lives even if it meant making questionable decisions. This was no time for judgement.
After we cleaned ourselves up as best we could (we had no showers or bathing facilities) we sat on the porch and ate light snacks and talked about our nighttime experience. Everyone agreed that it wasn't easy. I was at a loss for words still trying to process everything that I had been through. One night was rough for me…I can't imagine a lifetime of slave cabin experiences.
Finally, we all said our goodbyes and exited the plantation. I drove away, oblivious to what had just happened. I felt nothing. Indifference settled in, and I went on about my life. I posted a photo on social media of the cabin I slept in. People asked a bunch of questions that I wasn't ready to answer. I couldn't answer them because I didn't know the answers. I couldn't connect my experience to any of my feelings at the time and because of that, I didn't write about it like I was instructed to do as a part of the overall experience.
Fast forward two weeks and here I am writing. It hit me like a ton of bricks when I realized what was happening. I had been in denial about the entire experience. I couldn't process any feelings because I ignored them. I pretended that I never went to the plantation, or slept in the cabin overnight. Instead, of facing my emotions, my brain/heart decided to block the entire thing out. But why? Because it was uncomfortable? Because it was sad? Because it was real? Because it was difficult? I'm still trying to figure it out. One thing I do know is that like my feelings, the tragedies of the enslaved have been blocked out, hidden, romanticized…or simply forgotten. That doesn't mean the hardships don't exist…it just means they've been neglected.
And, so I can appreciate organizations like The Slave Dwelling Project that attempt to bring scrutiny to an often overlooked part of our history, in which our tales are confined to the cabins behind the Big House, as tourists sip Mint Juleps and admire the façade that is our history. I hope that we continue to stir emotions, or at least find them, so that when we're ready to face them, we can. And I'll continue to take the journey with the Slave Dwelling Project and sleep in the cabins until I find what I'm looking for.
This Place Matters (Slave Cabin at Oakley Plantation)
Submitted by Lynetta Butler
Until Saturday, March 18th 2017, I never gave much thought to the monumental plantation homes standing proudly throughout South Louisiana where I have lived for more than 30 years. On this day, I arrived at Oakley Plantation in St. Francisville, Louisiana to participate in a "Slave Dwelling Experience" where volunteers accepted an invitation to sleep in a slave cabin.
When I informed my husband of my intentions, he responded "you mean to tell me you are going to leave a comfortable bed and go sleep on a hard floor. '" Yes, I told him. I knew that in this experience, wisdom and understanding would visit me apart from my everyday distractions. As I traveled the 18 miles from my home in Baton Rouge to St. Francisville, I felt a nervous energy regarding what this Slave Dwelling Experience would entail and how it would affect me.
Since this experience, I am more astute in the knowledge of how the preservation of historic sites and the sculpting of statues perpetuate the offensiveness of slavery and how it can change for the good of all people. There is an African proverb that says "the hunt will always glorify the hunter until the lion tells its tale." The same goes for historic preservation. Historic preservation glorifies one part of American History while largely silencing or ignoring the other half. In the historic preservation of Oakley Plantation, there is a deafening silence where the narrative of enslaved people should be heard; there is a blank canvas where images of enslaved people should be seen; there is significance given to the big house on the hill and its generations of occupants whereas there is little mention given to the diminutive cabins down the hill and the generations of enslaved people who occupied them. As with the slave cabin, there is little information made known about the enslaved people who built the big house; who cooked the meals; who nursed the babies (black and white); who planted and harvested crops; who sewed clothes; who made shoes; who tended the livestock; who feed the chickens and who healed its people.
History is the story of a bygone era but as is currently being told, it largely minimizes the contribution of enslaved people. The lack of inclusion in historic preservation is perhaps more offensive than the fact that slavery happened. It is time to make known the names and likenesses of the enslaved people who built America? It is time to give equal importance to the lives and contributions of enslaved people. The contributions of enslaved people are significant. Without inclusion, history continues to glorify the slave owner and infer insignificance to the enslaved. There is much for the descendants of enslaved people to be proud. Carter G. Woodson said "Black people must teach themselves about themselves." History demands more. Historic Preservation must give equal treatment to the contribution of all people. Only then can people cease to think of themselves more highly than they should.