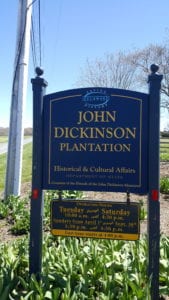 My sleepover at Dickinson Plantation in Dover, Delaware had a lot of moving parts. I first visited Dickinson Plantation two years ago with staff members of Cliveden in Philadelphia, Pennsylvania. On that visit, the site manager of Dickinson and I made a verbal commitment to conduct a Slave Dwelling Project sleepover at the plantation. However, I had my doubts that it would ever happen for I have these types of conversations often and many never come to fruition. The conversations often are dropped when the matter of financing the trip is discussed. Never-the-less, having spent nights in ninety plus slave dwellings in nineteen states is not a bad track record. I badly wanted the stay to happen because it is always nice when I can add another northern state to the portfolio of places where we have spent the night in slave dwellings, for it is northerners that I get the most disbelief that slavery existed in their states.
For this sleepover to occur, fate took over. Last year I met Francis Mahon. He was a part of an archaeological dig at Charles Towne Landing in Charleston, South Carolina. John Marcoux, who led the dig, is a professor at Salve Regina University in Newport, Rhode Island. Earlier, John managed to get me a sleepover at Smith's Castle in North Kingstown, Rhode Island. This time, John managed to get permission for a sleepover at Charles Towne Landing, something I never thought of doing because there are no extant slave dwellings there. Francis Mahon participated in the archaeological dig and joined us in that sleepover.
The sleepover at Charlestown Landing occurred on the boat Adventure. It is a replica of one of the sailing vessels that brought some of the first English settlers to South Carolina in 1670. The original Adventure was not a slave ship, but evidence has provided the proof some enslaved people came over from Barbados with the first English settlers on the Adventure and others like it. And why did I not feel it necessary to seek a sleepover at ground zero for the slavery that existed in the state of South Carolina? Probably because it is a state-owned entity and earlier on in the project, they told me no when I inquired about Redcliffe Plantation in Aiken County, SC. That relationship is evolving, and I have now stayed at three of their properties including Redcliffe Plantation. The other overnight stay is Hampton Plantation in Charleston County, SC.
Francis contacted me about being a part of a panel discussion at the University of Delaware where he now attends. I responded in the affirmative and made him aware of my desire to spend a night at Dickinson Plantation. With those challenges, Francis did all of the coordinating necessary with the staff at Dickinson Plantation to make it so. Francis even took on the responsibility of making my travel arrangements.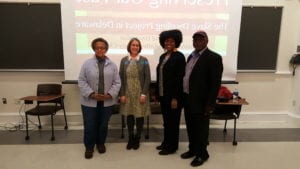 The panel discussion was titled: Preserving Our Past: The Slave Dwelling Project in Delaware. For the discussion, Francis paired scholars and interpreters. The classroom was standing room only with a diverse mixture of students, professors, and other professionals. The questions were more of a political nature than historical, but all of the panelists held their own.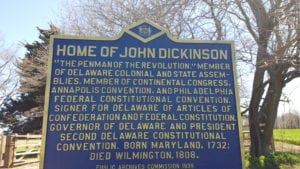 The Dickinson Plantation portion of the weekend included a program of which I was one of four presenters. In anticipation of a larger than average crowd, the program was held at the St. Jones Reserve which borders the John Dickinson Plantation. Beautiful facility, considering I would be taking my shower there the next morning before I headed to the Philadelphia airport.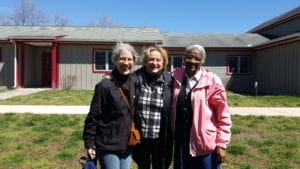 While there, I reunited with Lynda Davis who is a current member of the Slave Dwelling Project. Lynda is also a member of Coming to the Table. It was Lynda's birthday, and she drove one hour and forty-five minutes from Baltimore, Maryland to participate in her seventh sleepover in a slave dwelling.
We then proceeded to Dickinson Plantation where a planned discussion around a camp fire ensued. Some folks were waiting for us when we got there. I took one of the guests on an adventure with me as we looked for fingerprints in the bricks of the big house. To my dismay, I only found one possible mark that may have been a fingerprint. The group around the campfire grew to a respectable number of about fifteen.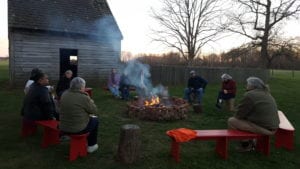 Carol Maurer sparked part of our conversation around the campfire; I met Carol at a Coming to the Table conference held in Richmond, Virginia in 2012. She has been following the Slave Dwelling Project through its website and Facebook page ever since. She was forthcoming about her slave-owning ancestors and thought that others in her category should be as forthcoming. Part of her reasoning is because they possess information that can be helpful to African Americans who are doing genealogical research. While we both agreed, my assessment was that most White people who are knowledgeable of that information would prefer to take the Ben Affleck, Yale University, and Harvard Law School approach and suppress same. You see, this is the type of conversation that can and should occur on historic sites that should be interpreting the lives of the enslaved Ancestors.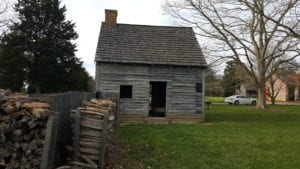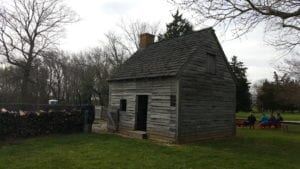 The slave cabin at the site is a replica built of wood with a dirt floor and a functional fireplace. That fireplace would come in handy because although the calendar said it was Spring, Mother Nature said it was not, this was Delaware and, in anticipation of the freezing overnight weather, I had already invested in some long johns earlier in the day. Ladders could give you access to the half story upstairs where others, most likely the family of the enslaved cook, would have slept. On the bottom level, the cabin included a bed and other items which made it only possible for three people to sleep there. I don't think the enslaved cook would have had a relatively comfortable bed, but a pallet instead. Four other people would sleep outside in tents while the site manager would sleep in the main office.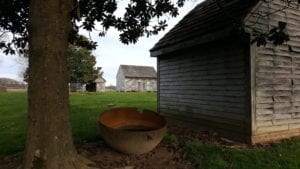 Convincing the general public that slavery happened in northern states is one of my biggest challenges. The Revolutionary War, the Underground Railroad and the Northern army ridding this nation of slavery are points in the history of which Northerners are quite knowledgeable and proud. I have to remind them often that slavery was also a part of their history. It will continue to take more people like Francis Mahon and sites like Dickinson Plantation to remind the world that Northern states also have to take ownership of the roles that they played in allowing slavery to exist in this great nation.
Do you feel that what you are doing is a responsibility? That was the question that she asked as she was packing up her tent from the previous night sleepover. The only right answer to that profound question was an emphatic YES! Little did she know that she reminded me of why I have been sleeping in slave dwellings for seven years. Yes, the project has evolved, but it always has and always will be about honoring the enslaved Ancestors.
Slave Dwelling Project at the John Dickinson Plantation in Dover, Delaware on Saturday, April 8, 2017
Margaret S. Alexander
In the afternoon Joe McGill spoke along with several others on their approach to interpreting both the enslaved and free blacks in American History. These presentations were a part of the Underground Railroad Coalition of Delaware's annual meeting held at the St. Jones Reserve next to the John Dickinson Plantation (JDP).
During the break between the afternoon and evening special event some attendees went with Joe in search of finger prints in the bricks of the mansion house. They reported that they may have found some.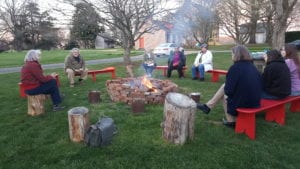 From 6 to 9 p.m. the public was invited to continue the discussion in front of the Log Dwelling at JDP. As we sat around the fire circle near the Log Dwelling, we watched the sun set and the almost full moon rise. The attendees ranged from teens to retirees. Guests had come from Delaware and other nearby states. Those present told how they became interested in the Slave Dwelling Project. I enjoyed hearing the story of one couple that had come from Maryland on the Eastern Shore. The husband works at a historical site and the wife is a university professor doing research on the influence of African American cooking on American food.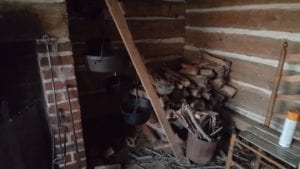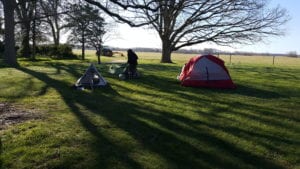 When the public left, those staying the night prepared their sleeping areas. Since the Log Dwelling was small only three of us slept inside while the other four slept in tents nearby. The weather decided to go downhill from the unusual warmth earlier in the week. Before morning the temperature was down in the thirties. From past camping experiences I know I do not like to be cold so I had three light weight fleece blankets in the sleeping bag as well as a cover on top. Joe challenged the newbies to stick out the night past 3 a.m. This was the first Slave Dwelling experience for four of us. Joe is the pro with JDP being his 95th sleepover location and his first in Delaware. For one lady, this was her 7th sleepover and a graduate student's 2nd experience. Now that I have a cold weather sleeping bag, I hope Joe will return to Delaware and sleep in the Slave Quarter at the Gov. Ross Plantation in Seaford where I work.
I crawled in the sleeping bag with a fire going in the fireplace and the light dancing on the ceiling. As I fell asleep my thoughts were about the enslaved, free blacks and poor whites who lived in a log dwelling like this restored one on the JDP. Over 250 years divide the first occupants from those staying here tonight. The enslaved had a shirt and maybe a worn blanket for warmth while I am layered in polar fleece to stay warm. Others worried about their cell phone battery being well charged for the night. You never know when you might want to record your latest thoughts or use the cell phone flashlight.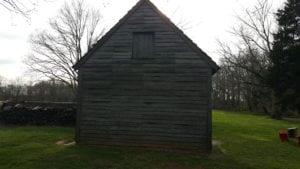 If the dwelling had mice or other critters, I slept through their noises and did not hear a thing. I woke to the sunlight peeking through the cracks in the ceiling. Thanks to an air mattress the gaps in the log construction did not affect me; because I was not sleeping directly on the swept dirt floor.
Shortly after rising the group disbursed. Some left before 9o'clock for the long drive home while others went to the Visitor's Center for breakfast and more informal chatting about our experience.
Blog for John Dickinson Plantation April 8-9, 2107
Lynda Davis
As I have stated previously in this blog, I am a member of Coming to the Table (http://comingtothetable.org/). CTTT's purpose is to Take America Beyond the Legacy of Enslavement (TABLE) by practicing four approaches: facing history, making connections, working toward healing, and taking action. I believe participating in the overnights with the Slave Dwelling Project is a perfect way to practice these four approaches.
Several of my ancestors were contemporaries of John Dickinson (b. November 8, 1732 – February 14, 1808) and like Dickinson, they lived in Kent County, Delaware and enslaved people:
• Philemon Cubbage I (b. 1701, d. 1760) lived in Dorchester County, Maryland and Kent County, Delaware. The inventory of Philemon Cubbage's will, dated February 6, 1761, includes one "old Negro man."
• Philemon Cubbage I had a son named Thomas (1725-1784) who married Anna Edwards (1725-1795) and lived in Kent County, Delaware. The will of Anna (Edwards) Cubbage written on January 20, 1795 mentions three enslaved people: Aberham, Beck, and Beck's child.
• Thomas and Anna (Edwards) Cubbage's sons George (1755-1802); John; and Thomas Jr. (1755-1818) lived in Kent County, Delaware. The people who were enslaved by George Cubbage were: Isack, Seal, Ebb, Sylvia, Jonathan, Ennis, Ann, Priscilla, James, Margaret, Susan, Nancy, Salley, Esther, Perry, and Sarah. The person who was enslaved by Thomas Cubbage Jr. was Richard and by John Cubbage was Abraham.
• Philemon Cubbage I had another son named Philemon Cubbage II (b. 1757, d. 1813) who lived in Kent County, Delaware. The people who were enslaved by Philemon Cubbage II were Mariah, Tish, Letty, and Darky. On June 21, 1806, Philemon II manumitted Mariah. He did not free the other enslaved people because his Administrative Account dated April 6, 1813 included "2 Negro boys (twins 12 years old); 1 Negro lad aged 15 years old; 1 Negro woman and young child; 1 Negro girl called Maria aged 4 years; and 1 Negro child crippled named Cail."
• Philemon Cubbage II had a son named George Cubbage (b. 1790, d. 1849) who lived in Kent County, Delaware and Little Creek Hundred, Delaware. The people who were enslaved by George Cubbage were: William, Henen, Stephen, and Mariah.
How does one face this history without getting stymied by guilt and shame?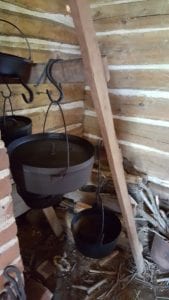 Maya Angelou provides one answer: "history, despite its wrenching pain, cannot be unlived. But if faced with courage need not be lived again."
George Santayana provides another answer: "Those who do not remember the past are condemned to repeat it."
Participating in the Slave Dwelling Project has helped me face history with courage, remember the past, and learn history on an emotional level rather than an intellectual level. This has changed my heart and my mind and has motivated me to work on dismantling racism within myself and within our system.
The second approach of Coming to the Table is to build relationships across historical divisions that can create partnerships capable of working towards effective change. Participating in the Slave Dwelling Project has helped me develop sustained, authentic cross-racial relationships. Robin DiAngelo, author of What Does it Mean to be White?Developing White Racial Literacy, says these kinds of relationships will assist us with dismantling racism.
The third approach of Coming to the Table is to create a space and methods that welcome and support healing wounds (mind, body and spirit) from trauma both individually and collectively. Participating in the Slave Dwelling Project has helped me transform my shame and guilt into compassion for myself and others.
The fourth approach of Coming to the Table is to take action to address beliefs, behaviors and structures responsible for ongoing harms. Participating in overnights with the Slave Dwelling Project has transformed me from a passive observer/recorder of history to an active participant who is trying to keep history from repeating itself.
Francis Moran
I met Joe McGill in the summer of 2016 while I was participating in an archaeological field school in Charleston, SC in the Charles Towne Landing State Park. He brought the Slave Dwelling Project to the park and invited my fellow archaeologists-in-training and I to join him for a night onboard the park's 17th century replica trade vessel. I was somewhat familiar with the park's geography, history, and interpretation before participating in the Slave Dwelling Project, but was wholly unprepared as to how the Project would open my eyes and make me think differently.
The vessel was small and its historical counterparts would have been used to carry building materials, food, and families from the British colony of Barbados up the Atlantic to the newly colonized Charles Towne. These families and other passengers onboard the boat would have also been bringing enslaved people with them from Barbados to North America. As we boarded the boat for the night and I climbed into my cubby to go to sleep I could not help but think of another journey enslaved people had been forced to make across an ocean, the Middle Passage.
American history is fraught with bias, inconsistencies, and a multitude of perspectives, some that are explored and others that have been kept silent. The emotional impact I experienced from the stay onboard the boat in Charles Towne Landing was enough to make me realize how important it is to allow people's voices from the past to be heard. All throughout the remainder of my summer in Charleston I could not help but think about what stories and voices had been forgotten about in Delaware, the state I currently live in and where I go to school. I called Joe up in the Fall and we began working with the John Dickinson Plantation in Dover to get Joe and the Slave Dwelling Project to Delaware, which has been referred to as the Southernmost Northern state and the Northernmost Southern state.
Joe arrived in Delaware on April 7th where he sat on a panel at the University of Delaware about slavery, preservation, history, and race within America. The panel generated an interesting conversation about institutionalized racism, current politics, and the history of slavery within America that left my mind buzzing. The night of April 8th was the sleepover at the John Dickinson Plantation in Dover. My friend and I arrived a little late and had to set up our tents in the dark, but everyone who was spending the night helped us and Gloria even moved her car so that we could use her headlights for setting up. As soon as all of our equipment was up and ready we sat around the campfire and began talking about race, slavery, and history.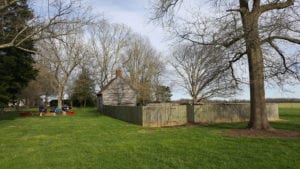 Towards the end of the night my friend and I decided to walk around the plantation grounds near the slave dwelling and our tents; it was cold and the sky was clear with a bright moon that illuminated everything. I was struck by how beautiful and peaceful the landscape was and it caused me to think about how plantations and sites of slavery are viewed today, often with a mask of the white antebellum period pulled over their heavy histories. There is a horrible divide between the beauty of plantations and the horrors that happened within their borders and it is a divide that lurks just beneath the surface of their brick and wooden facades. The fact that people believed they owned other people is something that boggles my mind and knots my stomach, and turning towards the plantation house itself I was struck with the dissonance that must have existed between enslaved people and the "masters", a dissonance that I believe still exists at large within America today. It is troubling to think that America was founded and funded by such an inhumane and horrible institution like slavery but there is some comfort in knowing that people like Joe and projects like the Slave Dwelling Project exist and seek to give those people who had their voices hidden, taken away, or covered up a chance to speak.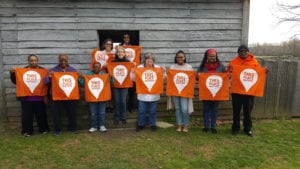 My stay on the Dickinson Plantation left me with a newer perspective about history and specifically the history of the enslaved and how it can be used to not only talk about the past but also talk about the present and future. My experience on the plantation was very different from my first Slave Dwelling Project stay and emotionally impacted me more. I was exhausted the Sunday after the stay but was also inspired to do more research about how we can all have conversations about slavery, history, and race that lead to worthwhile solutions for the problems of racism, inequality, and prejudice that face our country today. In the end it is up to us to right the wrongs of history and acknowledge the power they still have, it is also our duty to give those histories and voices of the past that have been silenced their chance to speak. History requires us to act and it should be used as a tool for change, to change and deconstruct the institutionalized racism, inequality, and prejudice that exist within our country today. Thank you Joe for bringing the Slave Dwelling Project to Delaware and for giving me the chance to participate in it again, it has been a truly transformative experience.