Inalienable Rights: Living History Through the Eyes of the Enslaved is a program the gives the Slave Dwelling Project the opportunity to conduct living history programs at antebellum historic sites. The Slave Dwelling Project has assembled African American living historians from throughout the south to participate in this educational program. The funding for the program was obtained from the South Carolina Humanities Council and spent in 2016, but in 2017 it still exists and is going strong. Since its inception in 2016, the Slave Dwelling Program has conducted six of these programs all within the state of South Carolina. Two of those sites, Magnolia Plantation in Charleston and the Lexington County Museum in Lexington have been repeats.
Tracing the footprint of slavery exposes former Presidents as slave owners. Revealing the flaws of our former Presidents tend to rub some people the wrong way. The people's perception of these past Presidents places them on pedestals and cannot allow them to think of these leaders as slave owners. The fact is that twelve of our former Presidents were slave owners, eight of whom owned slaves while they were in office. It is a challenge to interpret slavery at these Presidential sites when the dwellings that once housed the enslaved do not exist. More recently, Monticello and Montpelier have been rectifying this problem by using archaeology and other research to place replicas of slave cabins back on the landscape. Original slave cabins are also still on the site of the Hermitage.
My first presidential site sleepover was the Hermitage in Nashville, Tennessee, the home of President Andrew Jackson. My second presidential site was Montpelier in Orange, Virginia, the home of President James Madison. My third presidential site was Monticello in Charlottesville, Virginia, the home of President Thomas Jefferson.
Our two stays at Monticello were unique because we only allowed the descendants of Sally Hemings and others who were enslaved there to join us. It was during my stay at my second stay at Monticello in 2016 that the idea for a sleepover at Poplar Forest spawned. Poplar Forest was a home that belonged to President Thomas Jefferson. President Jefferson inherited the property from his father-in-law. Mary Kesler, lead guide at Poplar Forest, was on a reconnoitering mission and spent the night with us as we slept in the kitchen at Monticello. My request to Mary was to assist in making a sleepover at Poplar Forest a reality, but I make these requests often and do not expect a whole lot to become of them.
Not only did Mary assist in making it happen, but also a great potential existed when the opportunity to bring the living historians along for the sleepover. Additionally, Poplar Forest gave an open invitation to others who wanted to join me in the sleepover. The living historians who would join me at the Poplar Forest would be Jerome Bias our cook; Christine Mitchell our historian and Gilbert Walker our blacksmith. This would be our first opportunity to take Inalienable Rights: Living History Through the Eyes of the Enslaved out of the state of South Carolina.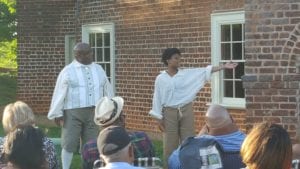 We were in for a treat when we witnessed, The Day is Past and Gone: Three Short Plays on Slave Life at Poplar Forest. Outdoor theatre returned to Poplar Forest with the premiere performance of local African-American playwright Teresa Harris's Poplar Forest Trilogy—three original stories focused on individual members of the enslaved community at Poplar Forest and the events that shaped their lives.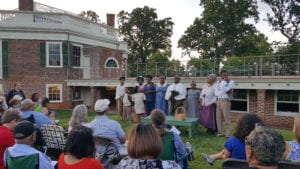 The three stories were drawn from the real-life experiences of Hannah and her son Billy, who pushed back against the system of enslavement; Burwell Colbert, Jefferson's trusted manservant; and Abby and Edy, close friends who were separated when Abby was sold to a nearby plantation. Each short play took place in a different location around the villa.
The well-researched play was excellent in its execution.
We then proceeded to the area where the cooking demonstration would take place. Its location was at the back of the property and obscure from the big house, but an archeological dig had proven that slave cabins were once located there. Years ago a ghost structure of a cabin was erected there. We lit a fire and engaged in conversation about slavery and the legacy that it left on this nation. As midnight approached and the conversation started to fade, all but two of us proceeded to the bottom of the big house where we would sleep. The other two people decided that they would sleep in the ghost structure.
Finding a place to sleep in the basement was not a problem for us. While the others were interested in exploring the rest of the big house, I was satisfied in just finding the spot where I would lay my head. That was another wasted opportunity for me to explore spatial segregation and how the enslaved may have accessed the space.
While I have had news outlets embed themselves in a few sleepovers of the past, having more than one in one night is rare. For some, this project is just not sexy enough. On this night, two news outlet representatives and a novelist joined us for the sleepover.
We conducted our cooking and blacksmithing demonstrations throughout the course of the day. The only disappointment was that more people did not show up to take advantage of the educational opportunity.
Conclusion
While the event was great, there was the missed opportunity for discussion when most of the audience left after the play. The distance between the big house and the slave cabin factored into the disconnect. The distance also played a role in the number of people who attended the living history demonstrations. Fixing those problems will be easy. The opportunity to repair the problem will come soon because we have a verbal invitation to come back again.
In the Slave Dwelling Project's effort to develop connections, the following have been made with President Thomas Jefferson. We have conducted two sleepovers at Monticello and one at Poplar Forest. October 18 – 21, 2017, the fourth annual Slave Dwelling Project conference will be held on the campus of the University of Virginia. I hope to see you there.
My Slave Dwelling Project Overnight Experience
at Thomas Jefferson's Poplar Forest
May 19-20, 2017
by Elizabeth Bell
I did this for Easter and Shadrach.
My Easter and Shadrach never existed. They are characters in the historical novel I'm writing, an enslaved cook and an enslaved blacksmith who fall in love. Yet hundreds of enslaved Easters and Shadrachs did exist, according to the research of Dr. Newbell Niles Puckett in his fascinating book Black Names in America. I chose these names for my characters not only for their symbolic possibilities but also to honor the real Easters and Shadrachs. Some of them were probably cooks and blacksmiths.
One of them might have toiled on the grounds of Poplar Forest, Thomas Jefferson's retreat house outside Lynchburg, Virginia. It was a retreat for him—not for his slaves. Jefferson worried about the irritation of unwanted guests. His slaves worried about being separated from their family members forever, while they reshaped the landscape to Jefferson's will and constructed the home of his dreams.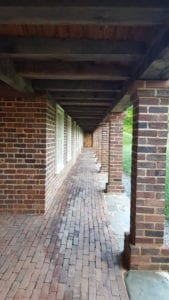 I wanted to hear the stories of those enslaved men and women, but I wondered if I'd be the only white person to stay overnight with Joseph McGill and the Slave Dwelling Project team. In fact, white participants outnumbered black ones. At one of Poplar Forest's slave quarter sites, those of us sleeping on the property had a wonderful conversation around a bonfire till after midnight. Our group included docents, archaeologists, and journalists. I had the same reaction as when I attended my first historical fiction conference: I'm not alone! Other people care about this too! Not just casually—enough to travel great distances, give up a weekend of their time, and sacrifice their comfort!
In this case, the uncertainties and inconveniences of travel were compounded by sleeping on a brick floor in the middle of a muggy, buggy forest and having potentially awkward discussions with strangers about race. But I felt far more camaraderie than conflict. Everyone's voice was respected. Within living memory, such fellowship was unthinkable. In some places, it still is. I left feeling cheered and hopeful at how far we've come as a nation, even if a great deal of work remains ahead of us. Everyone around that bonfire cared about "getting it right," about throwing aside a romanticized, safety blanket version of the past and exploring the fullness of history in all its diversity, ugliness, and beauty.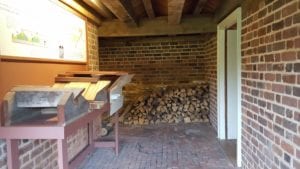 This is everyone's history. Slavery should matter to every American, whatever the color of your skin. For better and worse, slavery made the United States what it is today. As the character Noah declares after escaping slavery in WGN America's series Underground: "It's our hands that built this country! It's our blood that's running through the heart of it!" The wealth their slaves produced gave Jefferson and other Founding Fathers the leisure to think profound thoughts and write world-changing documents like the Declaration of Independence and the U.S. Constitution.
The reasons to remember the enslaved run even deeper. DNA testing proves that many families who have looked white for generations possess African roots because an ancestor once crossed the color line, like three children of Jefferson and Sally Hemings did. In addition, the recent PBS series Victorian Slum House shows that some aspects of enslaved people's lives were true for impoverished white people, too: child labor; ragged clothing and cramped living conditions; the constant gnaw of hunger and pull of exhaustion; the dread of what new horrors tomorrow might bring; the humiliation and powerlessness. Almost every society has an underclass. Most of the world has lived in poverty for most of history.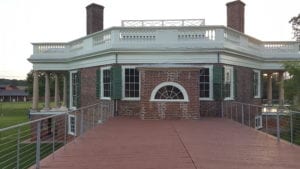 We shouldn't be ashamed of that. We should be filled with pride that our ancestors endured and overcame so much. This history should empower us, and it's present at any site where this underclass lived—if those sites choose to honor their full history, as Thomas Jefferson's Poplar Forest does. Remembering only the master and his family is like peering through a keyhole instead of opening the door to the breathtaking abundance of stories our ancestors offer us. Every story is a lesson. If all we ever do is repeat the same lessons over and over ad infinitum, humanity becomes stagnant and decays.
I knew my historical novel trilogy about a mixed-race family in antebellum Charleston wouldn't be complete without the voices of slaves. I know I want to portray those perspectives with as much authenticity and humanity as possible. No matter how many books I've read, there's no substitute for walking the ground of historic sites or for the expertise of historical reenactors. Such experiences rarely focus on the lives of enslaved people. I knew the Slave Dwelling Project's visit to Poplar Forest was a unique opportunity.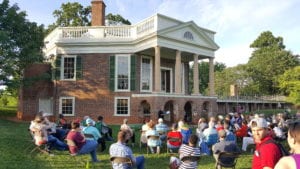 I still debated long and hard about participating in this event, because I also knew my sleep disorder would probably preclude my actually sleeping during the sleepover. And it did. But my sleeplessness gave me time alone with my thoughts and with a remarkable place.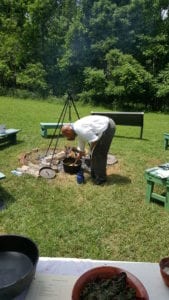 I'd forgotten how much I love the scent of wood smoke, how evocative it is of the past. As I sat in Poplar Forest's restored kitchen, inhaling that lingering perfume, I thought about my character Easter and about Jefferson's cook, Hannah, who'd come to life a few hours before in playwright Teresa Harris's poignant Poplar Forest Trilogy: The Day Is Past & Gone. Easter and Hannah would have to constantly feed and tend their kitchen fires to produce the heat they needed. The following day, as modern cook Jerome Bias and modern blacksmith Gilbert Walker worked their unique magic with coals and iron, I would learn just how punishing that heat could be on a warm day—and it wasn't even summer yet! As I listened to the scurrying of a colony of camel crickets in the kitchen, I also thought about how Easter and Hannah would battle insects trying to plunder their precious supplies and their delicious labors.
I walked out to the sunken South Lawn, stared at the back of Jefferson's retreat house, and thought about how my perspective had literally changed. Jefferson, his family members, and his guests would have arrived and departed through the front of the mansion, alighting from fine horses or elegant carriages. But that evening, as my fellow visitors and I had found our sleeping spots, brought in our possessions, and attended our gathering, we'd come and gone through the back of the mansion, on foot. When we'd peeked into Jefferson's bedroom and dining room, we'd reached them by using the narrow, sharply-turning "servants' staircase," as Jefferson's enslaved butler and maids would have done. As slaves, they were always behind and beneath the master of this domain, even when he was absent. Tonight, I was inhabiting that same subordinate role, seeing what a slave would have seen.
The darkness allowed me to time travel and imagine myself in another skin. The night was my ally, as it was for enslaved people attending secret church services, planning rebellions, or teaching each other to read. As it was for enslaved mothers or husbands who had to walk half the night to another plantation to see their children or wives, then return before dawn so the master or overseer wouldn't catch them. Resistance takes many forms.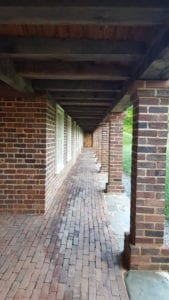 I stared up at the luminous patchwork of stars and thought about how these same constellations had guided the men and women who escaped for more than a night, like my own characters and like Jefferson's slave Billy, who also featured in Teresa Harris's play. In running, these people were taking back the freedom that had been stolen from them—but the law called them thieves and pursued them without mercy. Over the trilling of katydids, I heard a dog barking and baying in the distance. I knew that if I were a runaway, such sounds would mean pattyrollers and bloodhounds hot on my trail and hell-bent on returning me to slavery.
Twenty years after claiming his own freedom, Frederick Douglass told an audience: "If there is no struggle, there is no progress." The story of slavery is a story of struggle and suffering, but this is only where it starts—in the end, it is a story of resilience and victory. This, in a nutshell, is what makes a satisfying story: a character who endures conflict and changes because of it. Who doesn't want to root for the underdog and watch him overcome impossible odds? By keeping slavery out of sight at historic homes, by making slaves nothing but shadow characters, we lose our nation's most dynamic and dramatic stories. Bravo to the Slave Dwelling Project and Thomas Jefferson's Poplar Forest for doing their part to expand and enhance the narrative. I'm trying to do the same with my historical fiction. What will you do to honor the enslaved who built this country?