Remaining relevant factors into staying power. To remain relevant, one must evolve. While some are just catching on, the act of sleeping in extant slave dwellings is an old concept for me. Giving others the opportunity to share that experience with me is one element of what makes this journey to honor the enslaved Ancestors more relevant and exciting for me. It was not until my fourth stay that the first person joined me for a sleepover in a slave cabin, before that there were not too many people who saw the value of the Slave Dwelling Project. Now people get on waiting lists to share the opportunity to spend a night in an extant slave dwelling.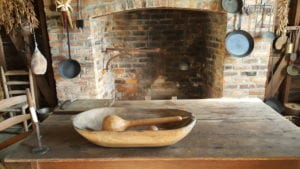 In 2016, the South Carolina Humanities Council provided the Slave Dwelling Project a major grant that enabled us to launch Inalienable Rights: Living History Through the Eyes of the Enslaved. The program allowed the Slave Dwelling Project to assemble African American living historians from throughout the southeast to travel to four antebellum sites throughout South Carolina to conduct living history programs in period dress. The programs included demonstrating cooking on an open flame in hearths or outdoor, blacksmithing, storytelling and lectures about slavery and the legacy that it left on this nation. We conducted the living history programs at Hobcaw Barony in Georgetown County, Woodburn House in Pendleton, Magnolia Plantation and Gardens in Charleston and the Lexington County Museum in Lexington.
While the grant only funded Inalienable Rights: Living History Through the Eyes of the Enslaved, for one year, the program is still in existence in 2017 and is going strong. The only difference is that the program is no longer free to the host, they must now take on the costs of bringing in the living historians. With that requirement, two of the sites invited us back for the second year, Magnolia Plantation and Gardens in Charleston, SC invited us back for three programs this year. Additionally, the Slave Dwelling Project will be taking the show on the road to Maryland and Virginia.
First thing first, recently, we had the pleasure of conducting for the second consecutive year, Inalienable Rights: Living History Through the Eyes of the Enslaved at the Lexington County Museum in Lexington, South Carolina. Like last year, the program was in conjunction with the annual Lexington County Museum Open House.
Prinny Anderson, Terry James and I would travel from Walkertown, North Carolina to get to the site around 5:30 pm. That was the appointed time that all of the living historians who were staying in the cabin at the site agreed to be there. Everyone showed up who said they would. Christine Mitchell and her grandson Daniel were scheduled to join us the next morning.
Our host and site manager, J.R. Fennell speculated that 400 people would attend the event. He gave us the key to the office building across the street so that we could all have access to modern bathrooms throughout the night. Having access to modern bathrooms is extremely necessary, especially when they are women involved in the sleepovers.
After dinner at a local restaurant, we found ourselves back in the cabin around 8:00 pm which was earlier than usual. Seven of us would sleep in the space of about eighteen by twenty feet. I saw no problem with that because just recently in the state of Wisconsin, we fit twenty people into a cabin that size. We rearranged some of the furniture and made it possible for everyone to find a comfortable space. The conversation at dinner and in the cabin hinged on ways of making Inalienable Rights more marketable and useful to the general public.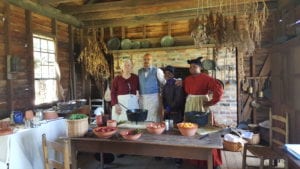 Despite the fact that we come in peace and mean no harm there are still antebellum historic sites that still are not buying what we are selling. The sites that don't tell the stories of the enslaved, convince themselves that they are doing nothing wrong. As long as no one complains, it is business as usual for them.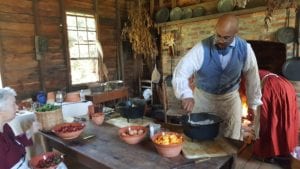 The next morning we carried on at a more leisurely pace because the program would not start until 2:00 pm. Jerome acted like a kid in a candy store because he got to cook in the most spacious indoor kitchen on the site.
Other living historians would be conducting wheel righting, beehive oven cooking, clothes washing, soap making and weapon's firing demonstrations.
Our demonstration included an introduction by me; a lecture on the international slave trade by Donald West, storytelling by James Brown and a lecture on the buying and selling of slaves by Christine Mitchell. The audience also had the opportunity to interact with Jerome Bias and his cooking crew.
One young man of about nine years old tested my patience when he stated out loud that the presentation was boring. I had to check myself as I almost responded to him in a negatively. The young man was immediately disciplined by his father and came up on stage and gave me an apology when the presentation ended.
One disappointment was that of the hundreds of people who attended the event; I only saw two African Americans and one was a board member of the Lexington County Museum.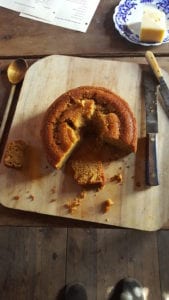 We were fortunate enough to get lunch and dinner by Jerome Bias and his cooking crew, and both meals were excellent. There was also enough food to feed some of the other living historians who were participating in the open house event.
Conclusion
We have proven the Inalienable Rights: Living History through the Eyes of the Enslaved program is viable and sustainable. The program and the Lexington County are a good fit. In the future, we must do more to ensure that we can get more African Americans to attend this educational event.
WHAT AM I DOING HERE: The Inalienable Rights program at Lexington, SC, County Museum – Interview with Jerome Bias by Prinny Anderson
I'm lying on the floor of one of the Fox House slave dwellings. The rain is drumming on the roof, the other six people in the room are snuffling, snoring and rustling in their bedding, and I can't sleep. But my sleeplessness isn't caused by the noises. I've overnighted in slave dwellings with all these people before. What's keeping me awake is the question that came to me as soon as I closed my eyes: What am I doing here?
The hard floor, the pouring rain and the sleep noises are only the superficial cause for that question. The essence of the question comes from wondering about what's so important to me about staying overnight at historic sites with connections to slavery and cooking over open fires or fireplaces. And those questions go back to much older thoughts about my identity. What am I doing here? becomes Who am I?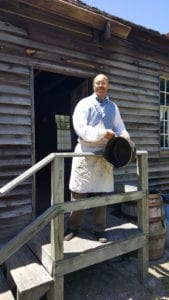 As a child, I lived in two worlds. In the world of my parents' home and school, I was a lighter-skinned youngster in a community of predominantly darker-skinned people. My classmates and our neighbors said right out loud that I wasn't really black, certainly not "black enough." But when I went to my grandmother's beach community, where we were the only African American family in an otherwise white town, I was very black, certainly "black enough" that our whole family had to watch itself when we were outside our beach compound.
Somehow, in my own mind, I adopted the belief that, if I wasn't "black enough" at home, I wasn't black at all. I was white. Then I went to college in the Midwest. And there, I was far too black. For four years, it was made clear to me that I was too black to be friends with my fellow students, too black to have any close relationships, too black to belong to student groups. I became black, depressed and confused.
As I've matured, I've continued to struggle with this painful issue of racial identity. What I realized, lying on the floor, listening to the rain and the snores, was that I sleep in slave dwellings, I resurrect the cooking of my enslaved ancestors, I talk about slavery with visitors to our programs at historic sites to deeply embrace my own identity. I do these things to tell myself who I am, who my people are and were, and to affirm over and over why they and I matter. To tell everyone else who we have been, what we've accomplished and contributed, that we mattered in the past and matter even more now.
MIXING IT UP IN THE KITCHEN: Inalienable Rights Living History Day at Lexington County Museum, SC
Prinny Anderson
Sauerbraten and rice, nutmeg and cornmeal, apple brandy and butternut squash – dishes and ingredients in the meals we cooked in the fireplace of the kitchen building at Lexington County Museum. Many of the visitors came into the kitchen to enjoy the smell of food and wood smoke. Some wanted to know what was on the menu, and a few wanted to talk about specific culinary techniques. What we hope is that some visitors also went away with a sense that beating cake batter was not the only mixing represented in that kitchen.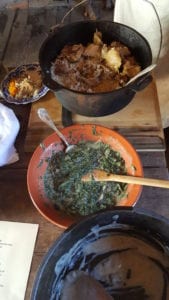 The dishes we prepared were selected to indicate how the food prepared for the Big House and the food prepared for the enslaved workers overlapped. Sauerbraten is a beef dish of German origin, a contribution from the European settlers and landowners. But enslaved people most likely ate it on special occasions. Rice came to South Carolina from Africa and became an important staple as well as a major export. Cuisine, agricultural products, and trade across continents mix together in the everyday consumption of rice on its own and rice mixed into a chicken perloo, rice eaten by everyone enslaved or free.
Some visitors started off convinced that enslaved people would not have cooked with brandy for themselves – too expensive, too hard to get. But the chef explained that "brandy" had become a catch-all term for alcohol, and apple brandy could have been any liquor made with apples. Furthermore, oral histories, diaries and letters, and country store ledgers make it clear that enslaved people did indeed buy special ingredients for their own purposes, including spices, sugar, and distilled spirits. That apple brandy cornmeal Bundt cake might had South Carolina's version of Calvados mixed in when it was prepared for the owner's table and apple liquor when it was eaten in the slave quarters.
The thoroughly grated nub of nutmeg represents another significant story of mixing. Five and six hundred years ago, European explorers and traders sailed along the coast of Africa looking for the sources of spices. The Dutch in particular rounded the Cape of Good Hope on their way to the East Indies, where they traded for nutmeg and other spices. Other Europeans began to deal in African captives who could be sold into slavery in the Western hemisphere. Nutmeg and human beings, both shipped to Charleston, then conveyed up river to prosperous Americans, one to be mixed into the cooking and the others to be put to work in the kitchens, gardens, workshops and fields.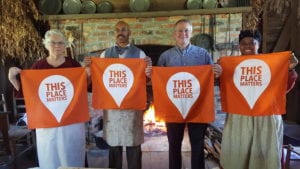 Our busy day in the kitchen was emblematic of globalization, the mixing together of products from around the world, which had been expanding for at least two thousand years. It represented the intermingling of the lives of slave owners and the people they owned through the overlap in what they ate. And to visitors who looked carefully and listened deeply, it offered a taste of the interesting and nuanced lives that people held in slavery mixed together out of whatever was at hand.