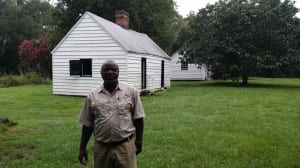 Thank you to all who will be attending the fundraiser for the Slave Dwelling Project at Magnolia Plantation and Gardens in Charleston, South Carolina on Thursday, November 6th. Your donations will support the effort to assess and preserve extant slave dwellings that represent an important part of American history.
Your $50 donation is tax-deductible and includes a garden tour led by Magnolia's executive director Tom Johnson and a cabin tour led by Joseph McGill, founder of the Slave Dwelling Project. Two garden and two cabin tours are scheduled between 4 p.m. to 6 p.m. prior to the reception with heavy hors d'oeuvres in the Carriage House. If it is your intent to participate in any of the tours, they both will last approximately 45 minutes and will begin promptly at 4:00 pm and 5:00 pm and there will be walking involved so please plan accordingly. Please let your network know that tickets can still be purchased at www.slavedwellingproject.org or donations for the match can be made through Go Fund Me: http://www.gofundme.com/Slave-Dwelling-Pro
Money raised during the event will go toward a $25,000 matching grant the South Carolina Department of Archives and History recently awarded to the Slave Dwelling Project.
The purpose of the grant is to conduct an assessment of extant slave dwellings in the state of South Carolina. This $50,000 project will require the Slave Dwelling Project to hire a structural engineer to inspect extant slave dwellings throughout the state and create a report on their condition. Structural engineer Craig Bennett of Charleston is a consultant on the project. During the reception, in addition to getting an update on the Slave Dwelling Project, you will hear from Craig and volunteers who will participate in the assessment.
[ngg_images gallery_ids="32″ gallery_width="300″ display_type="photocrati-nextgen_basic_slideshow"]
http://www.postandcourier.com/article/20140621/PC1610/140629905