I got excited when I was invited to join a panel at the National Preservation Conference in Washington, DC. The chance to hang out with some of my ex-coworkers of the National Trust for Historic Preservation and continue to network for the Slave Dwelling Project was an offer that I could not refuse. The other invitees to the panel was also an indication that the Slave Dwelling Project is gaining much respect. But how could I accept this invitation without seeking an opportunity to spend the night in a slave dwelling in the Washington, DC area.
After five years into the process of sleeping in extant slave dwellings, I tend to get a bit presumptuous. Slavery was not abolished in Washington, DC until April 1862 so there is an abundance of extant slave dwellings in and around DC. When I made the request through facebook to stay in an extant slave dwelling in the DC area, several people praised the idea however it would be months before any prospects would come forth. It is still somewhat of a challenge for some to think beyond southern plantations when they think about how slavery was applied in this nation. When urban slavery is factored into the thought process, we can find many existing buildings that once housed the enslaved. This way of thinking also allows us to think beyond southern states when we think about that peculiar institution of slavery.
Lynda Davis, a member of the group Coming to the Table, whose mission is to provide leadership, resources, and a supportive environment for all who wish to acknowledge and heal wounds from racism that is rooted in the United States' history of slavery, took the matter into her hands. I met Lynda when I participated in a panel discussion on the campus of George Washington University. The panel included many noted historians and actor Levar Burton. After the event, Lynda came on stage and introduced herself to me. She inquired if I had made any progress on finding a place to stay when I was scheduled to participate in the National Preservation Conference. My response was an emphatic no. It was then that her tenacity was engaged. She put out the call and many sites started to respond. Most responded unfavorably but they responded none-the-less. Some of the sites, I had stayed in before and the timing was just not right. Some recommended scheduling a future stay. There was only one site that left no doubt that based on the purpose of the Slave Dwelling Project, an overnight stay at that site would never happen. "I don't think the neighbors would like that," was the response.
When the dust settled it was Gunston Hall Plantation, the home of founding father George Mason, which granted us the opportunity to spend the night. The following information is taken from the Gunston Hall Plantation website: "One of the most important descriptions of slavery at Gunston Hall comes from the Recollections of George Mason's son John. In this memoir of life on the eighteenth century plantation, John described the specialized skills of some enslaved individuals, portrayed the extensive farm economy supported by an unskilled slave labor force, and discussed the heavy domestic burden fulfilled by numerous "house servants" — the preferred term for slave labor within the mansion. Throughout John's writings, however, only one individual is mentioned by name — James, the personal body servant to his father, George Mason. Many documents — wills, inventories, tax records, and letters — also give information about slaves among the Mason family. Searching these documents and piecing together details about individuals, work, skills, and values paints a sketchy, but important picture about plantation slave life at Gunston Hall in the eighteenth century."
Click on this link to find out more about George Mason's slave holding past:
http://www.gunstonhall.org/index.php/george-mason/slavery
Of course, Lynda Davis would be spending the night on the site with me. Other local members of the organization Coming to the Table were given the invitation to join us but they declined. Three days prior to the overnight stay, through an email, I was made aware of Ann McWhirt, a volunteer at Gunston Hall Plantation. She expressed interest in spending the night in the dwelling with us if it was OK. Having had others decline the offer, Ann was more than welcome so that made three of us who would sleep in the dwelling.  Ann's volunteering at the site included doing period cooking in period dress. On this short notice, she wanted to prepare a period meal for us at the site but the request was denied. I am certain that with better planning we can make that aspect of an overnight stay work in the future.
Lynda and I got a thorough tour of the grounds. It was the kind of tour that I love, the kind that interprets the enslaved of the plantation. The tour of the mansion was thorough and our guide was quite knowledgeable but my interest was in how the enslaved interacted in that space.
Unfortunately, there are no extant buildings on the property that once housed the enslaved. This is somewhat typical of the national preservation effort to concentrate on the big house and ignore the slavery that existed. Despite that, the Slave Dwelling Project rewards effort so we would sleep in the recreated laundry room on the site. Any more than the three of us projected to sleep there would have been real tight quarters. The fireplace was functional and we had the option of using it if necessary.
Ann McWhirt showed up with a bevy of questions about the Slave Dwelling Project. With Ann's assistance and in the dark, we found the graveyard for the site. The graves of George Mason and his descendants were bordered by a four foot high brick wall. According to Ann, the enslaved were in unmarked graves outside of the brick walls which was typical of other plantations I had visited.
We made a collective decision not to use the fire place because the temperature was just warm enough. The darkness in the cabin made it necessary to light the many lanterns that were available. Because I flew to this event, Lynda provided my sleeping gear which included a cushion more comfortable than in any slave cabin which I had slept. Ann's rapid fire questions kept the conversation flowing before we all drifted to sleep.
The next morning Lynda delivered me to the Omni Shoreham Hotel to participate in the National Preservation Conference.
 Friend: Karen Branan
And what a preservation conference it was. The desire for preservation entities to tell a more inclusive story seemed to permeate throughout the conference. My first obligation was to participate in the PastForward Diversity Summit: World Café as a table moderator. "Building on earlier discussions by national civil rights executives, preservationists gathered in interactive, café style discussions to strategize on key actions to advance preservation of underrepresented places. Representatives of civil rights and social justice organizations also participated in these dynamic conversations." This event was sponsored by the National Park Service and the Smithsonian National Museum of African American History and Culture.
Despite Lynda's best effort, Gunstons Hall Plantation was the only place that we could find for me to spend a night where the Ancestors were once enslaved. To compensate, the plan was for me to spend the last two nights at Lynda's house in Baltimore which would require catching a combination of trains and subways. With this knowledge, I checked into the conference hotel for the third night.
Lynda made an offer I could not refuse. Bryan Stevenson, Executive Director of Equal Justice Initiative; author of the New York Times Bestseller, Just Mercy: A Story of Justice and Redemption; and nationally known advocate for criminal justice reform, was speaking at the New York Avenue Presbyterian Church as part of their "Citywide Call for Justice and Mercy." The offer was that she would pick me up from the conference hotel so that we could both attend the event together. Excellent because that would be one night of trains and subways that I would not have to deal with.
Bryan Stevenson is quite an amazing man. With no notes or prompts, from start to finish, he held the audience spellbound. Historical trauma and the legacy of slavery was the basis of his speech. It was my desire to get to talk to him after the event but that was not the case.
In steps Karen Branan. I met Karen in Richmond, Virginia in 2012 at a national conference of Coming to the Table. Lynda and I were supposed to meet Karen at a pizza joint prior to the presentation at the church but that did not work out, therefore we did not sit together. When we were departing the site of the presentation, Lynda mentioned to Karen that I would be spending the night at her house in Baltimore upon which time Karen extended to me the opportunity to spend the night at her house in DC and offered to drop me off at the conference hotel the next morning. I immediately accepted that offer.
When I met Karen in Richmond, she talked about the opportunity of spending a night in a slave dwelling in Georgia of which she was aware. That offer never materialized. She mentioned that the offer still stands but it is what she told me next that has me skeptical of that potential stay.
Karen is about to publish a book about a 1912 lynching of four African Americans that involved members of her family some of whom are still alive today. You can find out more about Karen's forthcoming book by accessing this link.
http://books.simonandschuster.com/The-Family-Tree/Karen-Branan/9781476717180
 Questioning the Tools
My ability to spend nights in extant slave dwellings often stems from my acceptance to present about the Slave Dwelling Project either at conferences or wherever slave dwellings exists. Presenting at the National Preservation Conference gave me the opportunity to spend a night at Gunston Hall Plantation. I was invited to be a part of a panel titled Questioning the Tools.
The Setup: "Is our current toolbox of federal preservation policies and programs adequate to meet the needs of today's preservation movement and to address issues of inclusion, equity and the heritage of underrepresented communities? Explore if and how concepts such as integrity, period of significance, contributing structures, and significant architectural features, among others, can be reinterpreted or adjusted to provide for broader recognition of cultural sites and wider application of preservation methodologies."
The Panelists: Brad White, Alphawood Foundation; Vince Michael, International Thought Leader; Allyson Brooks, Washington State Historic Preservation Office; my friend Julianne Polanco, California State Historic Preservation Office and me.
Wow, if being invited to be a part of this powerful panel on this national stage to speak about this subject matter is not a true testament of the relevance of the Slave Dwelling Project, what is?
And the panel discussion did not disappoint. One hour and fifteen minutes was not enough to contain the magnitude of this powerful subject matter but we did the best that we could. The question and answer period was an indication of that. It is clear that the current standards that allow historic buildings to get onto the National Register of Historic Places does not do justice to under represented communities.
Friend: Lynda Davis
Little did I know that when my mother gave me an article from Smithsonian Magazine by Tony Horwitz dated October 2013 entitled "One Man's Epic Quest to Visit Every Former Slave Dwelling in the United States" [1], I would be embarking on an overnight with Joe McGill two years later. I became more familiar with Joe McGill and his Slave Dwelling Project after I joined Coming to the Table in February 2014.
On November 3, 2015, Joe McGill and I started our journey together by having lunch at Gadsby's Tavern in Alexandria, Virginia. According to the website for Gadsby's Tavern Museum, "Gadsby's Tavern consists of two buildings, the circa 1785 tavern and the 1792 City Tavern and Hotel. The buildings are named for Englishman John Gadsby who operated them from 1796-1808. Mr. Gadsby's establishment was a center of political, business, and social life in early Alexandria" [2]. According to an 1802 inventory, John Gadsby owned 11 enslaved individuals [3-5]. 
After dining at Gadsby's Tavern, Joe and I traveled 20 miles south to Gunston Hall, home of George Mason, which is located on the Potomac River in Mason Neck, Virginia.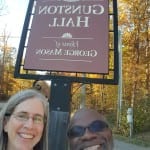 Joe McGill and Lynda Davis
Before arriving at Gunston Hall, I only knew of George Mason as the name of a University in Virginia. I did not know that he drafted the Virginia Declaration of Rights which stated "That all men are by nature equally free and independent, and have certain inherent rights,…namely, the enjoyment of life and liberty, with the means of acquiring and possessing property, and pursuing and obtaining happiness and safety." The Virginia Declaration of Rights was adopted by the Virginia Convention on June 12, 1776.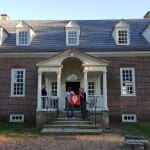 Joe McGill and Rebecca Martin in front of Gunston Hall
Gunston Hall is situated on a prime piece of real estate which overlooks the Potomac River. On our house tour, Joe asked about the Native Americans who were here before George Mason. The docent said the land was once home to the Dogue Indians, who were Algonquian. George Mason probably chose this location for the same reason the Dogue Indians chose it. It sits up on a hill overlooking the Potomac so one could see the river and one's potential visitors. The home of George Mason, built by the people he enslaved, still stands. The only evidence of the dwellings of the enslaved lies underneath the ground near a piece of land currently being excavated by archaeologists who have found trash pits that contain remnants of food eaten by the enslaved people: Garfish scales and bones from game which have been broken (possibly used for bone marrow in one-pot meals).
Upon arriving at Gunston Hall, Joe began looking at the bricks, checking for fingerprints baked into the clay as a reminder of those who crafted the bricks. We did not find any bricks with fingerprints on them attached to the house. Rebecca Martin, Director of Education and Guest Experiences at Gunston Hall, showed us an example of such a brick that was found on the property.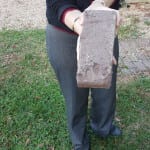 Brick with finger prints
The parts of the Mason home that captivated our attention were not the obvious indicators of Mason's wealth (the Georgian architecture and the Beaufat or buffet with its imported silver) but the subtle indicators that enslaved people traveled through the house, tending the needs of the Mason household by way of the side door, which they used to enter and exit the home from the outdoor kitchen, and the narrow spiral stair case, which they used when they performed their household tasks including carrying chamber pots.
After completing the house tour, Joe and I were met by Anne McWhirt. The three of us stayed in the reconstructed laundry which contained a brick floor and a working fire place, used to boil the water to wash the laundry.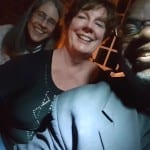 Left to Right: Lynda Davis, Ann McWhirt, and Joe McGill
\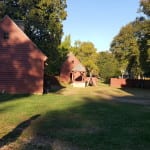 From Left to Right: Reconstructed Kitchen and Laundry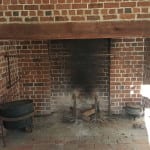 The Laundry Fire Place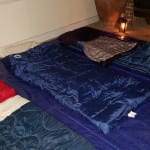 Our Sleeping Arrangements
The website for Gunston Hall discusses slavery [6]. From this website, I learned that "house servants" was the preferred term for slave labor within the mansion [6]. During the overnight, we discussed our use of language including the use of the term "enslaved" versus "slave." We also discussed the fact that Mason wrote statements against slavery such as "[Slavery is a] slow Poison, which is daily contaminating the Minds & Morals of our People" and yet he remained a slave owner until the end of his life and manumitted none of his slaves [7].
The reason that the Slave Dwelling Project and Coming to the Table exist today is because the legacy of this poison is still infecting us. This point was made by Bryan Stevenson, Executive Director of Equal Justice Initiative; author of the New York Times Bestseller, Just Mercy: A Story of Justice and Redemption; and nationally known advocate for criminal justice reform, when he spoke at the New York Avenue Presbyterian Church on November 4, 2015 as part of their "Citywide Call for Justice and Mercy." Joe and I attended Stevenson's talk which was the perfect culmination of our journey from past to present because Stevenson connected the dots from slavery to the "New Jim Crow" and said that we need to have a conversation about race which includes discussions about slavery, white supremacy, lynching, etc. in order to be able to address the injustices we are facing today. Stevenson's presentation validated all that Joe is trying to accomplish through the Slave Dwelling Project and what members of Coming to the Table, are trying to do: "providing leadership, resources, and a supportive environment for all who wish to acknowledge and heal wounds from racism that is rooted in the United States' history of slavery" [8].
References
Friend Ann McWirth
The Slave Dwelling Project: My stay at Gunston Hall Plantation
I am new to the Slave Dwelling Project. I first learned about it when I happened to Google the Slave Cabin that sits directly behind my church. I'm a docent and an 18th Century Hearth Cook at Gunston Hall Plantation, a lover of all things history and a life long learner so doing research about my local slave cabin came about naturally (although I've looked it up many times over the years). What I found is that The Slave Dwelling Project had, as recently as last year, gone into the cabin and performed a "sleepover" there. Well that was just the beginning.
I believe in the mission of The Slave Dwelling Project, and the way they go about achieving this mission. I'm a Virginia girl so trying to stay overnight in a slave dwelling in Mississippi or South Carolina seemed so out of my reach but I heard there was going to be an impromptu one held locally, at Gunston Hall in fact, and was graciously given permission to attend. Mind you, I've spent a lot of time in the outbuildings on George Mason's property but nothing really prepared me for the high and humbling honor of being able to sleep in a place where enslaved people lived, worked and worked and worked. Where they could not freely use 2 sleeping bags as I had, where they could not choose to frivolously allow several lantern candles to burn themselves out as I had, where awakening early in the cold was more the rule than an opportunity as it was for me. Being the last of our group to fall asleep gave me the time to ponder how very far we have come from the days of enslavement yet how very far we have to go.
Perhaps the part that I loved best about my stay was the discussion our group had while in the dwelling, after the sun had set and the lanterns glowed. There is something bonding about a group of people with a common goal. We each respond to slavery in different way, each his own, but respond we do and respond we will. Nobody can stop you once you step, however small, into the big shoes of those enslaved for life. I have a sense that this is a life changing experience, the kind of thing that will never leave me. I thirst to learn more and to do more and am oh so grateful for the spark in my heart created by this project. Well done Joseph McGill, you are moving mountains.
Ann McWhirt