Sometimes people contact the Slave Dwelling Project seeking assistance on how to restore their slave dwelling(s). These inquiries usually come from private owners who have the desire but not the means to restore these historic places. Demolition by neglect is the potential fate of these fragile dwellings if stabilizing is not done immediately. Because these structures were made to house enslaved people often classified as field hands, they were not built using the best materials of that period, therefore unlike the big houses and mansions, they lacked endurance. That said if these structures housed enslaved people who worked in Big Houses or Mansions, more of these places exist because their proximity to the house that they serviced dictated that they be aesthetically pleasing to the eyes. To accomplished that beauty and display of wealth, the enslavers built structures for the enslaved made of the same durable materials as the Big Houses and Mansions. Many of these buildings still exist in cities wherever slavery applied in this nation, and many are privately owned. You should also factor in the possibility of enslaved people inhabiting the big house or mansion; this concept is more prevalent in northern states because more enslaved lived in the same houses (basements or attics) as those who enslaved them. In 1703, more than 42 percent of New York households held slaves. So my point is, the footprint of slavery exists all over our built environment.
It takes a special steward of property to have the desire to restore a dwelling for its historical and social value rather than its ability to store things in it. As private property owners, they possess the authority to make choices of how their properties function. I am often confronted by people who are aware of and are offended that some extant slave dwellings are being used as something other than a museum. My response is that all buildings must evolve to continue to exist, my concern is that the stories of the enslaved Ancestors can and will be interpreted by that building's existence. So private owners of these sacred spaces, I hope that you are aware of the history of that historic property, the good, the bad and the ugly.
So, in 2016, Terry James, board member of the Slave Dwelling Project, and Lynda Davis, member of the Slave Dwelling Project and Coming to the Table were in Annapolis, Maryland doing what we do, a sleepover where people the enslaved Ancestors inhabited. We took a side trip to Cambridge, Maryland to visit Catherine Morrison. She had just acquired a historic home, and she was seeking advice on what she should do with the deteriorating slave dwelling in her backyard. She told me the story of her mother reading about the Slave Dwelling Project in the New York Times. Years of neglect had Catherine's two-story wood frame building leaning to the right, but it was salvageable. As is common, the structure was being used as a storage shed. Although the chimney was missing, our investigation determined that the structure was historically a kitchen. As a former employee of the National Trust for Historic Preservation, I advised her about preservation matters accordingly, but the bottom line is that acquiring funds for private owners to preserve historic buildings has always been a chore.
Joining us at the visit to Catherine's house was Margaret Ingersoll, Trustee of the Nanticoke Historic Preservation Alliance. She made us aware of Handsell an antebellum building in Vienna, Maryland that was in the process of restoration. We knew that any upcoming visit to the area would encompass both structures and, as fate would have it, that's how it worked.
Fast forward to present and Terry, Lynda, and I would return to the building for a sleepover, but this time we would have more people in tow. This sleepover would come with a lot of fanfare because we brought with us members of the troupe: Inalienable Rights: Living History Through the Eyes of the Enslaved. This trip would be the farthest out of state ever undertaken by the group and would be a test of our endurance and tolerance.
Our arrival time allowed us time to do some site seeing before the scheduled activities started on Friday night. Not having had much work done, Catherine's slave cabin was still leaning to the right, and there were places where we were advised not to step, but that cabin was where some of us would sleep.
Dorchester County, Maryland is the birthplace of the Great awe-inspiring, Harriet Tubman, so it was only appropriate that we visited the newly opened Harriet Tubman Museum. The new museum did not disappoint. It had all the bells and whistles of a new museum and wove the story of Harriet Tubman and the Underground Railroad well. I learned some things, and I highly recommend going there.
The night's activities would include a public event at the County Courthouse where historically, enslaved people stood on auction blocks for sale to the highest bidder. The lovely mayor of Cambridge, the Honorable Victoria Jackson-Stanley attended and was on the agenda for the program, and she delivered in all sincerity. A diverse group of about 100 people participated. Amazingly, descendants of enslavers read the names of those they enslaved. Quite profoundly and at this public event on this public property, an African American mayor and a White gentleman revealed that they connected through DNA. Profound because, on those same grounds, before 1865, enslaved people were sold there. How cool is that?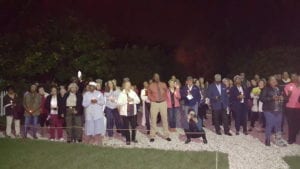 We then led a processional to the home of Catherine where the program continued with singing, refreshments and an opportunity for the audience to explore the slave cabin where would lay our heads.
All but one of the audience members left, she and those of us who would be sleeping in the slave cabin gathered around a campfire to engage in a conversation about slavery and the legacy that it left on this nation. Although all of us could fit in the cabin snugly, two people chose to sleep in tents, not a bad idea considering the structural integrity of the slave cabin.
Handsell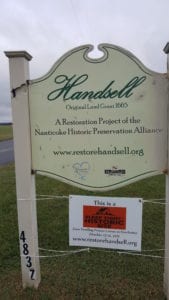 The next day, we conducted Inalienable Rights: Living History Through the Eyes of the Enslaved at Handsell. In addition to the living historians provided by the Slave Dwelling Project, the program included Native Americans, a washerwoman, and singers in period dress. A diverse audience of people that included two busses filed through throughout the day taking in all the history that the living historians had to disseminate. This was an impressive crowd considering the remoteness of the site.
We found fingerprints in the bricks in the building and made sure that everyone who was interested was made aware of their existence. The idea of incorporating other elements of living historians worked well in this environment. Our cook Jerome Bias, with the assistance of Prinny Anderson and Christine Mitchell, did a beautiful job in preparing the meal in the hearth although a punkah might have been in order.
Conclusion
I color this latest excursion into Dorchester County, Maryland a success. Reconnecting with homeowner Catherine and Midge to execute an idea conceived in Catherine's home to fruition was gratifying and aligns with the mission of the Slave Dwelling Project. To meet the Honorable Victoria Jackson-Stanley, the Mayor of Cambridge, Maryland, was a treat. Interacting with other living historians at a historic site was rewarding for the troupe.
While the troupe passed the endurance test on this trip, our tolerance, not so much. The saga continues…..
Dion Banks
MY EXPERIENCE
When I first arrived at the Handsell, I'm greeted at the end of the driveway by a gentleman wearing what looked to be period dress clothes of some sort. As I get closer, I realize that he's wearing a Union Army Uniform. I stop my vehicle to await instructions and he welcomes me to the Handsell House. As he tips his hat, I see that he's wearing the hat for The 54th Regiment out of Massachusetts. I thank him for the welcome and drive off, but looking in my rearview mirror as if I just saw a ghost. As I continue to approach the house, I see a lot of activity and more people in period dress. Anxiously I park my vehicle to see what other moments of surprise await me here at Handsell.
As soon as I entered the gate, I notice a middle-aged woman at what seemed to be a washing station. 15 minutes later, I not only physically washed a few garments, but I understood how labor intensive this job was and how the person who had this job was held in high regard. A washer/seamstress with a good reputation would be hired out because of how well they executed their craft. I also learned how important they were to the Civil War by keeping the soldier's clothes cleaned and free of things such as lice. I also learned that they were so valuable during the war, that they were one of next to no women allowed to camp with the troops during the war. Some laundresses were very well paid with records showing that some earned more than soldiers in the war. There were labor movements many years later related to equal pay for laundresses.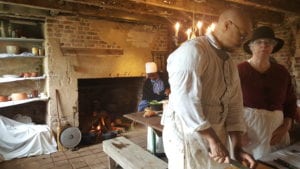 I then proceed into the kitchen. As I began to walk down the stairs, I kind of paused and stopped in my tracks to take it all in. It was as if I was stepping back into time! I saw people cooking in cast iron pots in a fireplace. I saw the foods most common to the diet of a slave being prepared. I saw all wooden utensils being used and a lady washing the dishes in several bowls and throwing the waste water out of the window. All of this while in period dress clothing, hustling, and bustling in the kitchen as if I wasn't there. I later continued to tour the rest of the house while hearing the sounds and smelling the aroma from the kitchen. It added to the experience and made it realistic.
When I arrive outside for the presentations, I'm still on a high from my most recent experience in the Handsell house tour. As I take my seat, I realize that my experience has just begun and I was to expect something just as great in this next session. We enjoyed storytelling on an enslaved woman, a conversation to remember the enslaved community in Vienna, MD, heartfelt Negro Spirituals were sung by artists in period dress in character, why we sleep at night by the founder of the Slave Dwelling Project, Joseph McGill, a presentation by local author Dr. Clara Small on her book titled "Enslaved People of Dorchester Serving in the Civil War"', followed by more discussions facilitated by "Coming to the Table."
SLEEPING IN AT HANDSELL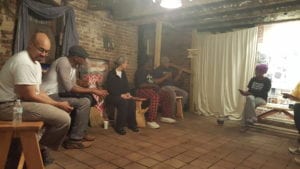 It was an honor, pleasure, and gift to spend the evening with a room full of amazing people. We went around the room to introduce ourselves and why we were here. We quickly learned we had a room full of change agents dedicated to preserving our history and telling the true story of the enslaved African during the time of slavery. We talked about life on a plantation, the overall systematic control of slavery, survival, the economic impact of slavery and the Enslaved Africans contribution to the Civil War. It was an eye-opening experience that I will never forget. This weekend makes the history of slavery tangible and real. I could see it, touch it, smell it and hear it. During the late-night conversation, one of the reactors shared with us that he wears shackles when he sleeps in slave dwellings. Once we found our places to sleep on the cold cement floor on top of make-shift pallets and in sleeping bags, we all said good night and dimmed the lights. About 10 minutes later, we all heard the sound of chains and then the shackles closing around his legs as he did to show respect for the Africans who traveled to America through the Middle Passage.
WHAT I LEARNED: "HOW WE GOT OVER"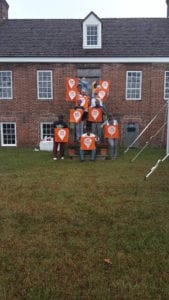 I choose to call my summary "How We Got Over." I am a Member of Bethel A.M.E. Church in Cambridge Maryland. A church founded in 1847 during the harsh times of slavery with a story of family, faith, and community. We still sing this song and many other songs that reference our experiences of slavery and struggle for equality. There are two things that stood out to me:
• One was the reinforcement of the systematic controls of slavery. Federal laws, religious beliefs and the general thought of being viewed as less than human.
• Two ways the system that was created by the slaves for survival under the umbrella of slavery. They learned to adapt for survival. They developed a faith and knew that it would not be like this always, even if they didn't live to see it.
I could go on and on about my experience this weekend. Please like our page. We posted a ton of pictures and video from this past weekend:
Please let us know if we can ever be of any assistance in the future.
Lynda Davis
On the evening of October 13, 2017, over 100 people gathered at the Dorchester County Courthouse on High Street in Cambridge for a program entitled "The Slave Trade: A Candlelight Remembrance and Recognition." I participated in this program as a member of Coming to the Table and the Slave Dwelling Project. I was honored with the task of introducing Joseph McGill. Here is what I said:
"I am here today because of Lucretia Coffin Mott and Harriet Tubman. Harriet Tubman's story captivated my imagination as an eight year old girl and her spirit has been guiding me ever since. A few years ago, I discovered that I am a descendant of enslavers from Dorchester County, MD (where Harriet Tubman was born) and then I discovered that I am a descendant of Lucretia Coffin Mott, who was a friend of Harriet Tubman's and an abolitionist. After making these discoveries, I asked myself "What would Harriet Tubman and Lucretia Coffin Mott be doing today?" I believe they would be, and are, with us here today. They would be members of Coming to the Table and the Slave Dwelling Project. Coming to the Table was inspired by the vision of Rev. Dr. Martin Luther King, Jr. who said in his 1963 March on Washington speech 'I have a dream that one day on the red hills of Georgia, the sons of former slaves and the sons of former slave owners will be able to sit together at the table of brotherhood.' Little did he know that one day on the courthouse lawn, the ancestors of former enslaved people and the ancestors of former enslavers would be standing together on this courthouse lawn and spending the night together in a slave dwelling. This too was inspired by a man with a dream. This man had a dream that one day the lives of the enslaved and the places where they dwelled would be acknowledged and would matter as much as the lives of the enslavers and the places where they dwelled. Well, as evidenced by tonight and tomorrow, this dream has become a reality. And this is all thanks to the man with this dream, Joseph McGill, founder and director of the Slave Dwelling Project."
After Joe's introduction and several songs performed by Karen Somerville, there was a "Remembrance and Recognition of the Dorchester Enslaved Community by Descendants of those enslaved and those who held them in bondage with a reading of known names of enslaved people." During this part of the program, I said the following: "As a descendant of families who enslaved people in Dorchester County, MD and Kent County, DE I wish to recognize:"
1. Aberham
2. Beck
3. Isack
4. Seal
5. Ebb
6. Sylvia
7. Jonathan
8. Ennis
9. Ann
10. Priscilla
11. James
12. Margaret
13. Susan
14. Nancy
15. Salley
16. Esther
17. Perry
18. Sarah
19. Abraham
20. Mariah
21. Tish
22. Letty
23. Darky
24. Maria
25. Cail
26. William
27. Henen
28. Stephen
29. Mariah
After the candlelight remembrance and recognition, seven of us slept in the Bayly House. The following morning, we were treated to a delicious breakfast by Catherine Morrison and Bob Moffatt. We then traveled to the Handsell Historic Site for part two of "The Slave Dwelling Project Comes to Dorchester." At this event, Dontavius Williams and James Brown, from the Inalienable Rights group, captivated the audience with their stories. Williams told the "Chronicles of Adam," a powerful and moving story about an enslaved person who was sold away from his family as a young boy, and Brown told the story of Jack Cunningham, an enslaved person who ran away from Virginia and joined the United States Colored Troops. Jerome Bias, Christine Mitchell, and Prinny Anderson, from the Inalienable Rights group, spent the day cooking in the Handsell kitchen and treated the guests to a dinner the enslaved people would have cooked and eaten: fried cabbage, greens, gumbo with clams, sweet potato pudding, and spoon bread. Just before dinner, several of us were standing outside near the kitchen windows where we could smell the food being prepared. Someone said "imagine being an enslaved person preparing a meal for the enslavers and not being able to eat the food you were preparing." Imagining this helped me open my heart and mind and fill them with compassion. These experiences empowered me to continue taking action to open my own and other people's hearts and minds.
Baylys
Prinny Anderson
Cambridge, Maryland – Commemoration of the Enslaved People of the County – The Named and the Nameless
The Service of Commemoration was held on the steps of the Dorchester County District Court building, around the corner from the auction block where enslaved people were sold in the 18th and 19th centuries. Cambridge was the commercial center of a wide area of plantation agriculture and the slave trading center of the region. It was also an Underground Railroad center, with an extensive network of safe houses. Since so many enslaved people had traveled up and down the Choptank River, across the courthouse grounds, and along the road system of the county, it was fitting to reflect on their existence from that same courthouse.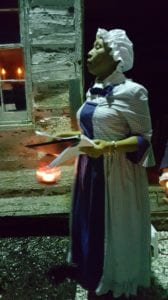 What I found the most moving about the commemoration was the mix of identities of the people who read out names of enslaved people. There were African Americans, descendants of the Dorchester County enslaved people, who talked about their ancestors and their pride in their heritage. There was one pair, a black woman and a white man, whose families are linked by slavery and by kinship. They told the story of how their connection in recent times had come about and grown into something important to both of them. They referred to one another as cousins, and they each took a turn naming the people from the enslaved community they are linked to.
A white woman whose ancestors were enslavers in the county read off the names of enslaved people that were on the family papers her research had uncovered, people she is linked to through slavery. Another white woman who read names is relatively new to the area and had bought a house in Cambridge with one of the few extant slave dwellings in the back. When she found out what the cabin in the garden was, she felt compelled to find out about the people who had lived there. And Friday night, she read out the identities of the people she has found so far, not names, but lists of people as property, identified only by gender and age.
Along with reading names, we had to face up to the loss of names. When we speak out the names of the enslaved, we have to remember that those names are often not those people's original names. Part of the brutality of enslavement was stripping away given names, and replacing them with names chosen by the slave trader or the slave master. Equally poignant is the fact that wills, deeds and registers listing enslaved people often don't give their names. During the Commemoration ceremony, some of the speakers could only read aloud items such as "one male, 23 years old," or "two women," or "nameless child." The dehumanization persisted in the legal record and official documentation, to the point of rendering human beings in bondage nameless.
Handsell
Prinny Anderson
Connecting Through Cooking
All day Saturday, the cooks worked in the kitchen of Handsell House, Vienna, MD, and the visitors to The Slave Dwelling Project Comes to Dorchester living history day, streamed in and out. Some of them just stood and watched and sniffed the odor of food on the hearth. Many visitors wanted to know what the menu was and commented about their own likes and dislikes of the listed foods. There were serious foodies who wanted to study the cookbooks on display, comment about regional and seasonal differences among cuisines, and share tidbits from their own cooking experiences.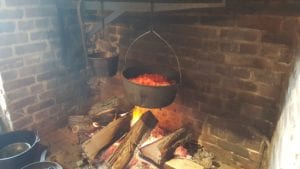 The strongest connections came from people who remembered out loud how they, their mamas and aunties, their grandmas and great-grandmas has prepared those dishes or others stirred up in their memories. Is okra soup really gumbo? Maybe, if your grandma grew up in Louisiana. Would you add black-eyed peas or red peas? One woman's mama liked her peas mushy, and another family preferred them whole, and there are peas to suit all tastes.
Greens, oh yes! Everyone had a favorite type or mixture of greens. The greens on our menu were a combination of turnip greens and mustard greens. One man remembered the greens he loved the best as a child were cooked with some fatback for flavor. Several people stated firmly that in their families, it was collards and nothing else for greens. With her eyes partly closed, one woman reminisced about her grandma's beet greens. Only a few people recalled having had sweet potato greens, although they're commonly eaten in rural parts of South Carolina, but perhaps not in Maryland, where we were.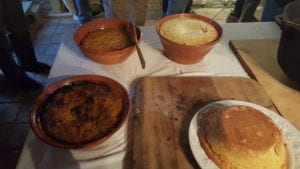 Sweet potato pone did not cause many family stories to bubble up, but corn bread and spoon bread drew smiles and stories. One family always made corn bread with fine white corn flower, delicious and, for a child, a lot like cake. A man told about his grandma's wet corn bread, something we knew as spoon bread. Listening to the corn bread stories, you could smell all those family kitchens, almost taste each dish, and hear the warmth of family connections renewed around the stove and the table.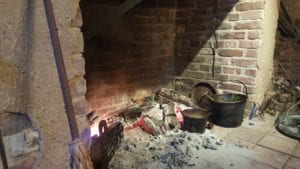 We cook to remind people of one of the many ways that African Americans contributed to the building and well-being of the country. We also cook so we can bring to life people's memories of their heritage, their family bonds. We cook so we can join them in their pride and pleasure.