Sometimes things don't always go as planned. I had developed my routine for responding to inquiries about visiting antebellum historic sites with the intent of sleeping at them. Just when I had gotten comfortable with that way of doing business, right around 2013, I got this call from Mary Jones-Fitts about a proposal she was writing to obtain a Smithsonian traveling exhibit. As an employee of the National Trust for Historic Preservation, I recall that call well. The exhibit: Changing America: The Emancipation, 1863, The March on Washington, 1963. She gave me an offer that I could not refuse. That offer was to be the keynote speaker at the opening of the exhibit when procured by them. The only problem was that none of this would transpire until 2017.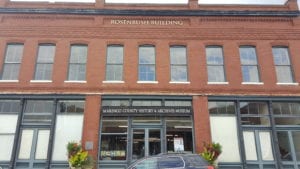 The real negotiations started when Mary Jones-Fitts notified me in 2014 that the traveling exhibit would indeed be coming to the Marengo County History & Archives Museum, Demopolis, AL. Mary and I devised a way that the museum could save money when having me come to Demopolis. If Mary could find me an extant slave dwelling to sleep in, they could save the cost of one night's lodging. Sleeping in one of the slave cabins at the University of Alabama danced through my mind.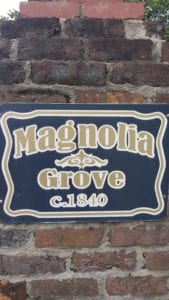 While Mary could not get me that sleepover at the University of Alabama, she did manage to get me a sleepover at Magnolia Grove in Greensboro, Alabama. To sweeten the deal, she managed to get permission for others to join me in the sleepover. Sometimes when I make the public aware that they can join me for a sleepover in an extant slave dwelling, I often hear crickets. A lack of volunteers would certainly not be the case at Magnolia Grove. Ten people would be participating in the sleepover, so my first desire after being picked up from the Birmingham airport was to go directly to the cabin to assess the situation.
On the two hour ride from Birmingham to Greensboro, we drove past signs for Tuscaloosa, my desire to sleep in a slave cabin at the University of Alabama was once again aroused but I knew that was a fight for another day. Mary reminded me that we knew a lot of the same people in Alabama because as a former employee of the National Trust for Historic Preservation, Alabama was one of my states of responsibility.
So I got this call from David Montgomery of the Washington Post Magazine. David was interested in doing a story on the Slave Dwelling Project, but he had to sell the idea to his boss. Despite my skepticism, the story was sexy enough for them. Also, the story had a tinge of the Confederate monument debate interwoven. Demopolis, like New Orleans, Louisiana; Charlottesville, Virginia and Baltimore, Maryland are all embroiled in the controversy of what is happening with Confederate monuments in their respective cities. I think that all of the Confederate monuments should remain on the landscape, but a reinterpretation is in order, but that is another story for another day.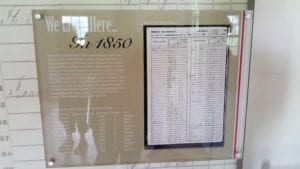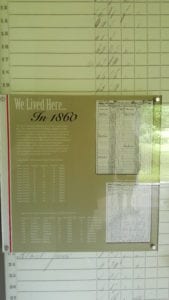 When Mary and I got to the site, we were greeted by a mother and daughter management team. The two of them were forthcoming with their knowledge of the enslaved at the site. They both had their doubts about the ability of eleven people to sleep in the cabin. My assessment of the cabin was that it was larger than normal and we would have no problem fitting eleven people into the space because we have fit more people into less space. What impressed me the most about the cabin was its interpretive panels. Inside the cabin were blown up copies of the 1850 and 1860 census documents. While these census documents did not give the enslaved names, they gave them a gender, age, and race. Having these documents displayed in this space matters because some antebellum sites claim that they do not have enough information to interpret the enslaved. To that claim, I call foul because of census records that exist.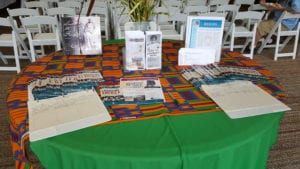 On the first evening of my visit, Mary planned a museum reception which was attended by a diverse crowd of about sixty people. The museum is located in a historic building in the town of Demopolis near the railroad tracks. The traveling exhibit Changing of America, The Emancipation 1863; The March on Washington, 1963 fit well within the cavernous space of the museum. On the perimeter of the inner wall, artifacts of various sorts made up a permanent display that interpreted an array of local history. The museum reception was my opportunity to introduce the audience to the Slave Dwelling Project. Not having a powerpoint, was an opportunity to adlib, a challenge I love. There are enough sleepovers in the arsenal to prevent a stall in the presentation.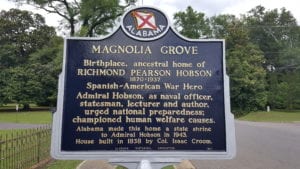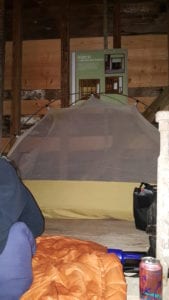 From the museum, we carpooled to Magnolia Grove. When we reached our destination, most of the carpoolers were seeing the site for the first time. No one in the group expressed to me a desire to back out of the sleepover. The site managers promised coffee in the morning and access to the modern restrooms throughout the night. Everyone began to scope out their spots, and as if planned, we segregated ourselves within the space with one exception, Jahi Chikwendiu, staff photographer, Washington Post. Not unusual except, Jahi slept in a contraption complete with mosquito netting, and he needed a corner of the limited space, a testament that he has traveled to some mosquito infested places in the past or will in the future. Despite that, we could have gotten three more people in the space easily and comfortably.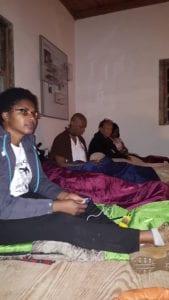 The conversation inside the space was extraordinarily intense. The youngest in the group was an African American female college student; the oldest was a retired Caucasian college professor. Everyone weighed in on Confederate monuments. I thought that I would have to call time out when the African American females peppered the only Caucasian female with questions about her interest in slavery, but she defended herself well.
The following morning, the promised coffee was welcomed by many. That was our opportunity to see the big house. My desire was to find that second set of stairs of where the enslaved were relegated. The second set of stairs have been removed, but the ghost outline is still visible in the bricks on the back porch. I looked closely at many bricks but found no fingerprints of the enslaved Ancestors, the interpretation there is that the bricks were made on the property.
We got a special tour of the historic kitchen. It was evident that this group was far more interested in the kitchen than the big house because we spent much more time there extending our rich conversation that we started the night before we went to sleep. It was like a classroom, we all learning from each other.
And then we went to the beautiful historic home of Ashley Dumas. Ashley stood her ground the night before when questioned about her interest in African American history. Mr. Dumas had prepared for us grits, eggs, bacon, biscuits and more. This occasion was offering us the third opportunity to extend the conversation about slavery and the legacy that it left on this nation as we feasted on this great meal. I've learned from the Great Michael Twitty; great conversations can be had when food is involved.
If you want to know what Dr. Martin Luther King, Jr. was doing two weeks before his assassination, visit the Safe House Museum in Greensboro, Alabama. Make arrangements to meet Mrs. Theresa Burroughs; you will be amazed and humbled in her presence. She is forthcoming in telling the number of times that she got arrested for civil disobedience or peaceful protesting. If the Slave Dwelling Project was not my passion, I could envision recording conversations with the Theresa Burroughs of the world so that we are reminded that we are not that far removed from the legacy that chattel slavery left on this nation.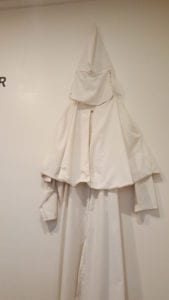 Compelling in a different way was the Ku Klux Klan uniform that was so prominently displayed in the museum. I recall the days when I worked in Cedar Rapids, Iowa and designing an exhibit for the African American Museum there. We acquired a Ku Klux Klan that I wanted to display . That was something of which my board of directors was not ready, so the compromise was to display the hood only.
Mary also arranged a visit to the Faunsdale Plantation. At this privately owned site, two slave cabins sit in a state of purgatory, where the private owners possess the will but not the means to restore them. It is this group of buildings that is affected most by demolition by neglect.
There will be more collaboration with this private owner and the Slave Dwelling Project.
And then came my reason for coming to Demopolis, Alabama, my task was to be the keynote speaker for the traveling exhibit: Changing America: The Emancipation Proclamation, 1863, the March on Washington, 1963. While in my hotel writing the speech, I figured it all out. Mary Jones-Fitts is a genius. While I was worried about the content of the speech, Mary had provided all of the inspiration I needed by taking me to the places that I needed to see. Yes, while being emancipated from the physical bondage of slavery was a major historical event in the lives of African Americans, Dr. Martin Luther King reminded us that the legacy of slavery still lingered in his lifetime. It is that lingering legacy of chattel slavery that still exist today that continues to fuel my desire to sleep in slave dwellings. These sleepovers help to ensure that these slave dwellings are restored, interpreted, maintained and sustained.
Valencia Moore
The experience of sleeping in a slave cabin was an interesting experience for me. Although, I stayed the night with seven strangers and two others that I have known for quite a while, I felt comfortable the entire night. I was excited to stay the night in a cabin so I could get a feel for the living conditions of a slave. Not having indoor plumbing, a closed off room for privacy, and an indoor cooling system was not a norm for me. Also, not having a television, electricity, a refrigerator, running water, a comfortable bed, etc. in a home felt strange to me. I now value these necessities more than ever. The people who slept at Magnolia Grove with me talked for hours and taught me a lot of things about African American history that I did not know prior to that day.
During the talk, a general question was asked and that individual wanted to know if every individual was angry about slavery or not. I explained that I was very angry about slavery in the past, but once I became educated about the topic, I am no longer angry, however, I am disappointed. I am disappointed that my ancestors were property and not considered humans because of the color of their skin and their different backgrounds. In my opinion, some people of my generation (age 25 and below) have different views regarding slavery than our parents and grandparents. To justify what I mean by the information previously stated, is southern African Americans that were born before 1975 possibly experienced segregation. Therefore, they would have different feelings about slavery than those born in the 1990`s and the early 2000`s. By them being aware that the end of slavery caused segregation, they have personal experiences that may make them more emotional or angry about slavery because skin color not only affected their ancestors, but it played a huge factor in some of the terrible things that those in the Civil Rights Movement fought against in their early lives as well.
My parents would have possibly joined me and the others staying a night in the slave cabin. However, I do not think my grandparents or great grandparents would have possibly enjoyed the idea. They possibly would not have enjoyed the experience because they are closer related to our ancestors who were slaves or the children of slaves. For them being on a plantation and sleeping in a slave cabin could have caused them to think about what their close relatives went through on the plantations where they resided. Due to them knowing those who were enslaved personally or by name could have affected them emotionally.
The topic slavery is painful to talk about and if the subject is ever addressed, I feel that everyone's opinion should be respected regardless of their race and age. In closing statements, being able to stay the night in a slave cabin was fun for me and I enjoyed everything about it and I am thankful to have met wonderful people that share the same interest as myself about African American history.
Ashley A. Dumas, Ph.D.
The University of West Alabama
On the evening of May 24, 2017, I joined nine other people as we unrolled our sleeping bags on the floor of the remaining slave cabin at Magnolia Grove house museum. The cabin sits quite far behind the big house, in the very corner of the back yard, so to get there we had to pick our way carefully through the wet grass in the growing darkness. I was already familiar with the cabin, because I have studied it as part of the Black Belt Slave Housing Survey, a project whose aim is to document all the extant slave dwellings in the Black Belt region of Alabama. Over the course of the project, I've read slave narratives, poured over historic photographs, studied books on slavery, and tried to become as familiar as possible with the historical context of slave dwellings. What I had not done was to talk about the work in-depth with descendants of slaves, so many of whom are my neighbors, my colleagues, and my students. During that night in the slave cabin, my background as an anthropologist and my love for the past and historic preservation were confronted with three questions from my African-American companions: "Why are you here?" "Why are you doing the slave housing survey?" "Do you feel guilty?"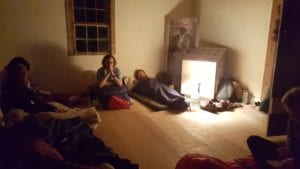 Sitting on the floor of a slave house serves as a leveler; formalities and normal barriers to communication suddenly seem irrelevant. So, when asked, "Why are you here?" I replied that, in addition to meeting Joe McGill, a man whose work I admire, it was important to try to experience the houses I had been studying, to make some effort at connecting with the experiences of the people who had lived there. The question about why I was doing a slave housing survey gave me pause. My answer was that I've just always been interested in saving old buildings, especially those that seemed neglected or poorly understood. But the question was really about why someone would be interested in saving old buildings that have little to do with her personal heritage. I didn't have a good answer that night, but I've since thought more about it. The fact is, I have dedicated my life to trying to understand other cultures, other histories, other families–that's what anthropology is about. If I can't study the experiences of other Americans around me, then there is no point in the existence of anthropology as a discipline, and we should all resign ourselves to narrow perspectives on humanity. No anthropologist, or historian for that matter, would claim to have achieved full understanding of anyone else's story, but the attempt, I believe, is worthy. And what I was reminded of that night is that the attempt is also impossible without communicating with the people who are closest to the story, whose ancestors lived it. I listened for hours to my companions, like B.J. Smothers, as they discussed the frustration of being unable to trace their full genealogies. I listened to the heavy clanking of the shackles worn by Afriye We-kandodis in solidarity with the suffering of her ancestors and millions of other slaves. I listened to several of our companions express anger. It was during that exchange that Afriye asked if I felt guilty. "No," was my simple reply. What I feel very strongly, however, is deep sadness and frustration. Every new piece of information about slavery deepens the sadness that I feel about what happened then and as a result, about the tremendous "loss of potential," as someone put it. My frustration is for the inability for people to communicate with one another about the past. How can any of us claim to understand our common heritage and present if we haven't spoken about it face-to-face? Why are people willing to overlook such a common sense approach? The people who slept in the Magnolia Grove cabin were there by choice and predisposed to open communication, but we still learned a lot from one another.
Our conversations continued into the morning over breakfast. If we hadn't had places to be, we might have kept talking and listening into the afternoon. I encourage everyone reading this to talk to your neighbors. Ask uncomfortable questions. Listen to the uncomfortable answers. Be uncomfortable on the floor of a slave cabin. Go to the Slave Dwelling Conference. Keep the conversation going.
Sacred Spaces
by Tonya Scott Williams
I can't say that I arrived that evening without some notion of what might unfold. For about a year I followed historian Joe McGill's work with the Slave Dwelling Project, watching as he slept in extant slave dwellings, reading stories of the inhabitants whose forced labor, for centuries, fueled the American economy. When he announced that Demopolis, Alabama was on the 2017 schedule, I knew I needed to be there.
What's behind the "big house" is not clearly, if ever, communicated in brochures or professionally guided tours of life in antebellum America. One might think those shabby, often, wooden structures were storage sheds, certainly not places where people lived in cramped conditions regardless of relation, or gender or age, at the behest of enslavers. After toiling countless hours within a system designed to exhaust every ounce of strength, intellect and spirit from them, they retired to those shelters. Even today, those spaces barely receive the slightest consideration though they stand only a few yards from the much lauded manor. Maybe, as W.E.B Dubois proposes in his seminal work, The Souls of Black Folk, "it is so much easier to assume that we know it all. Or perhaps, having already reached conclusions in our own minds, we are loath to have them disturbed by facts."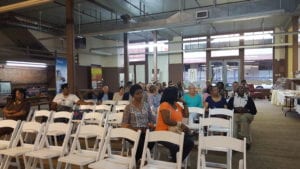 We gathered at the Marengo County History and Archives Museum for a reception and lecture on the history of the project, then, as night fell, drove 25 miles down winding country roads dotted by catfish farms and cattle, to Magnolia Grove Plantation in neighboring Greensboro, AL.
Sleeping bags and backpacks in hand, my friend and I followed shadowy figures beside the Greek revival mansion, across a wet lawn towards the cabin. Eleven souls, gathering on an unseasonably cold spring evening, for one of the most unique experiences imaginable. As I scoped out a sliver of space to settle down, intense anticipation gave way to uneasiness. Besides the fact that I suddenly realized I'd be sleeping next to strangers, folks I didn't know from Adam's house cat, I also wondered what right we, I, had to be there. Amid some of the most robust discussions around the human condition, I listened for the answer.
Besides two ancient looking chairs, there were three windows, a fireplace and wooden door we managed to prop shut with someone's boot. When the conversation finally drifted to a few whispers, I snuggled into my sleeping bag and thought about the ancestors who'd gazed out those windows, warmed themselves by the fire. What did they look like, sound like, talk about, in that room? What secrets did they keep? From which African tribes were they stolen?
With the first glimmer of sunlight, I maneuvered between sleeping bodies sprawled across the floor and made my way to the big house. A Northern Cardinal's familiar whistle cheerily announced the day. While I still cannot say with absolute certainty what moved me to drive two hours from Montgomery, that bastion of competing historical narratives, to the little cabin at Magnolia Grove – maybe that's too much to expect from a single encounter – what I do know is that the stories of people of African descent, stories fraught with peril, and unyielding resolve will no longer languish in the margins. We are re-membering our voices and they are strong.
Afriye We-kandothis