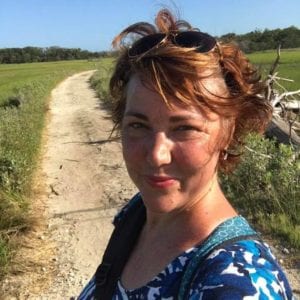 "Who thinks it would be cool to go on a tour of Charleston kitchen houses? I do!!! Who wants to arrange it? :)." When English Purcell posted these words on Facebook, it was on. It was like she threw down the gauntlet. Up until her posting about Charleston kitchen houses, I could recall seeing historical images she would post on the Facebook page: Charleston History Before 1945. For some reason, I was attracted to those images and would occasionally comment on some of them. But it was English's post about Charleston kitchen houses that compelled me to respond to her directly. It was like the enslaved Ancestors were speaking to me through her.
English and I both knew that to pull this off; we had to convince an entity with access to these historic spaces that conducting a tour like this was the right thing to do. We both agreed that we would present our idea to Historic Charleston Foundation because they had a history of successfully conducting annual historic house tours, but those tours concentrated on the grandeur and architectural significance of the homes. Luckily for us, convincing Historic Charleston Foundation of our intent was the easy part of the process, convincing the private homeowners would be our biggest challenge. Planning for the event commenced with the hopes that enough private homeowners would follow because what we were asking them to do was something that few if any had committed to in the past. With no buy-in from the property owners, the project would be dead on arrival. Staff at Historic Charleston Foundation convinced six private homeowners to participate in this social experiment. Above and beyond convincing the homeowners, they also mustered the myriad of volunteers necessary for making the event a success.
Media helped immensely; there was a great piece written in the Charleston City Paper.
And then there was this piece that aired on National Public Radio three days before the event.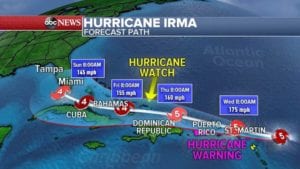 As the plans were going swimmingly, Mother Nature then intervened and threatened to blow it all away. The week before the event we were in a holding pattern as Hurricane Irma decided what she wanted to do as she churned away in the Atlantic Ocean. If you were to overlay Hurricane Irma's path in the Atlantic Ocean over that of slave ships from Africa, you would find similarities in the route. The mandatory training for the volunteers was postponed because of the threatening hurricane. Although the Charleston, SC area only received a glancing blow from Hurricane Irma, the potential flood damage probability to any of the six private residences was high and if any of the home owners needed a legitimate reason to bow out, this time would be perfect for them to do just that.
The fact that none of the homeowners blinked is a true testament that the potential is there for them to this again in the future.
Private homeowners chose to display their homes not to tell the usual feel-good stories of those who enslaved but the stories of those enslaved. These same homeowners did not flinch while staring down Hurricane Irma. After nine months of planning, Saturday, September 16 was showtime.
It was stimulating that two days before the event, we had reached the 300 people capacity that we set for ticket sales. Mother Nature could not have given us a better day to make this event happen.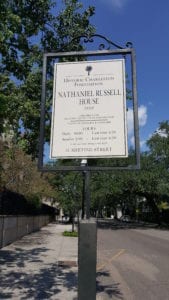 My duty station was the Nathaniel Russell House. Amazing because this was the starting point, the place every participant picked up their instructions for the tour. They came in clusters, and I got the opportunity to interact with all of them. Most were local and Caucasian. It was thrilling that more than half of them knew about the Slave Dwelling Project. The vast number of participants made it clear why it was necessary to partner with a well-established organization like Historic Charleston Foundation. As I queried the groups, most of them had come on a previous tour given by Historic Charleston Foundation.
On my way to the Aiken Rhett House, I received a phone call from Mayor Stephen Benjamin of Columbia, SC informing me that he would not be joining us in the sleepover. A shooting had occurred in a nightclub in Columbia, and eight people were injured, so it was best that Mayor Benjamin stayed close to home and attended to those matters.
The day's activities for the visiting public concluded Beyond the Big House of Aiken Rhett. Storytellers, Dontavius Williams and James Brown, took the audience through a rollercoaster of emotions with their storytelling skills. Many tears were shed by some of the participants as they heard the stories of Adam and Jack Cunningham who were both enslaved characters.
With the crowd gone, Mayor John Tecklenberg of Charleston, SC showed up. Like me, he had already been made aware that Mayor Benjamin of Columbia, SC was not going to attend. Amazingly, he decided that he was going to spend the night with us in the slave dwelling regardless.
Mayor Tecklenberg is a very cool guy. A lesser person would have used the fact of Mayor Benjamin not spending the night as their reason to bow out of the commitment to hang out with us. It is because he decided to spend the night that I have much more respect for Mayor Tecklenberg. Among other things, we made it official that I will be providing input to the Mayor's commission to evaluate the status of the John C. Calhoun statue in Marion Square and other monuments in Charleston that honor the Confederacy. I even got in a plug for increasing archaeology in the city of Charleston. Our time with Mayor Tecklenberg concluded with breakfast at a local restaurant and his commitment to spend the night with us again in another slave dwelling in Charleston.
Conclusion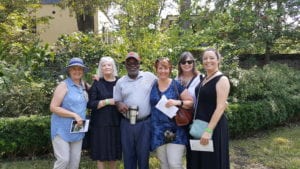 English Purcell, Historic Charleston Foundation, six private homeowners, volunteers galore and the Slave Dwelling Project gave the city of Charleston, South Carolina a chance to change the narrative. Together we used the built environment to interpret an aspect of history that is highly sensitive and often ignored. There is great potential not only to do this necessary event again in Charleston but also to duplicate it in other historic cities. I desire that this program can be a model for those historic sites and cities that are ready to take that bold step. Ready or not there is no turning back. The history of the enslaved Ancestors has been ignored for far too long. We have the power to convince the general public that interpreting that history of slavery can help fix what ails this nation. So all organizations that are currently giving house tours of antebellum buildings, you should follow the lead of Historic Charleston Foundation and the six private homeowners in Charleston, SC. The Slave Dwelling Project is here to assist.
For Slave Dwelling Blog
Priscilla Quirk
One of the reasons I love to travel is to discover new places, meet new people, and have my views challenged and perspectives broadened. Little did I know that I would have a travel-like life expanding experience in downtown Charleston.
On the evening of September 16th I spent an overnight in the slave quarters of the Aiken-Rhett house with eight others – primarily members of the Slave Dwelling Project. My husband, a historian by nature but not profession, has been an active and passionate member of the Slave Dwelling Project. We like to support each other's interests, so I agreed to spend an overnight in a slave dwelling with interest, curiosity and a little trepidation. I had seen the slave quarters at Aiken-Rhett House as part of a tour, and had a lot of camping experience. Sounded like it could be a fun overnight adventure.
What I hadn't anticipated is that the Slave Dwelling sleepover would take me to a different time, and into a circle that would broaden my thoughts and understanding.
Earlier in the day we went on the Beyond The Big House tour during which we visited the slave quarters (primarily spectacularly renovated) of six historic homes in Charleston. We heard from historians and docents about the lives of the urban enslaved people. It was good information, but not new to me.
The tour group was then treated to animated story telling by three men from the Slave Dwelling Project: Joe McGill, James Brown, and Dontavius Williams. The stories they told (acted) were powerful and poignant. In his role as an enslaved person, one told the story of the man who visited the plantation on which he lived and worked with his family in order to purchase a young slave. It was told with such animation, passion and pain that many in the audience were in tears. Another storyteller told of the time that he stole milk to keep his infant niece alive – the baby of his very young sister and the Master. The Master made an example of him and had him flayed to within an inch of his life in front of enslaved Africans from multiple plantations. A brutal lesson to those who stole.
Following the storytelling the crowds disappeared. Nine of us were prepared to stay overnight, most of who had had the experience in the past. An intimacy was created as it got dark: we were sharing a unique experience, we shared the Slave Dwelling Project value that THIS PLACE MATTERS, we were all bothered by the heat and the bugs, we sat around a small lantern and talked with candor and with humor.
Interestingly enough, one of the sleep-over participants was Mayor John Tecklenburg who joined us without fanfare, with snacks, a listening ear, and good humor. As a group that was racially mixed, well educated (2 college professors, a noted historian, the mayor, etc), and open to sleeping in uncomfortable conditions to honor the vast work and skills of enslaved people, we had fascinating and unguarded discussions about race, justice/injustice, the divided state of our nation today, and what we can do to promote a country in which – not only are "all men and women are created equal" – but in which all men and women have equal opportunity and are treated equally.
So – my travel adventure happened 6 miles from home with a group of people whose life experiences have been vastly different than mine have been. Although my sleep was restless (heat, bugs, and snorers), the experience I will always remember was being on someone else's turf, being welcomed openly, learning by listening and absorbing the surroundings, and having that unique experience of having my perspective opened.
I HAD A DREAM THAT NIGHT WHILE I SLEPT ON THE FLOOR
Prinny Anderson
I slept on the ground floor of the kitchen building, behind the Aiken Rhett House in Charleston, SC, in a space where enslaved people slept from 1820 until 1865. Before I lay down for the night, we had been talking about monuments and memorials – whether to take monuments down and how to put memorials up.
In my dream, a startling, brilliantly colored cityscape took shape. First there were commercial buildings and industrial spaces, from banks and insurance offices to shipyards and train stations. As I watched, writing began to appear on their walls, words and numbers in enormous, multi-story characters, in vibrant colors, telling the stories of the enslaved people who had built ships and laid track. The stories of enslaved workers who tended rice paddies, picked cotton, raised indigo and built the wealth of landowners and bankers, lawyers and insurance brokers, investors and land agents. The numbers combined into counts of people, of hours worked, of quantities of goods produced. And huge, green dollar amounts popped into place, the dollar values of the goods created by the work forced from the people, the daughters and sons of Africa.
The commercial and industrial spaces gave way to residential neighborhoods full of stately mansions like the one I slept near. As the sun had set a little earlier, the orange stucco of the Aiken Rhett House had been glowing in the light. In my dream, all the mansions, houses, and outbuildings began to glow with colors. Etched in the stucco, carved in the wood, imprinted in the bricks were names. Names of the enslaved artisans and builders who shaped the boards, built the houses, molded the bricks, laid the mortar, brushed on the paint and applied the stucco. Along with names, were the occupations and numbers – sawyers and millers, quarrymen and brick makers, glaziers, blacksmiths, masons, carpenters, and painters. All these names and numbers glowed more brightly than the sunset, in jeweled colors, filling the old residential streets with the light of the identities, hard work and talents of the people who had made the residences, the sons and daughters of Africa.
Then the glow of the jewel-colored names faded and I could see sparkling spots of gold, silver, copper and bronze. Zooming in, my dream sight showed me fingerprints, handprints, even footprints – all the places where enslaved people had touched the building materials before and during construction, during decoration, maintenance and repair. And then the dream picture zoomed out and panned 360 degrees. The whole city sparkled with gold, silver, copper and bronze marks.
The dream ended and the night stretched on. But my mind is imprinted with names, numbers and marks, with light and color and precious materials that call forth the presence of the children of Africa in every corner of the city.