2016 SLAVE DWELLING PROJECT
CALL FOR PRESENTERS
THEME: "USING EXTANT SLAVE DWELLINGS TO CHANGE THE NARRATIVE"
DATES: September 19 – 21, 2016
LOCATION: Columbia Metropolitan Convention Center, 1101 Lincoln Street, Columbia, SC 29201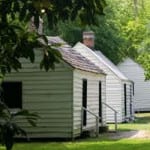 From 1619 when the first enslaved person was brought to Jamestown, Virginia, to the present, those who enslaved and their descendants have controlled the narrative of the history that we consume. That narrative has made the history and culture of those enslaved and their descendants mute, substandard or irrelevant.
From stately mansions to the big houses on plantations, the buildings that we preserve tend to support that narrative. Those on the outside looking in would tend to believe that this great nation did not have flaws when in reality our treatment of Native Americans, African Americans and Japanese Americans during WWII was far from stellar. This narrative does not highlight the fact that twelve of our former Presidents were slave owners, eight of whom owned slaves while they were in office.
The National Register of Historic Places is a testament that preserving buildings is not a new concept in America. However, some of the nominations that enabled these historic buildings to be on the National Register of Historic Places are void of information pertaining to African Americans, usually because that information does not show that site and its former owners in a positive light. When this way of thinking is applied to antebellum buildings, we usually miss out on information about the enslaved who physically built those structures. They made the bricks, they cut down and hued the logs that framed those buildings. Their labor provided the wealth for those buildings to be erected.
At the onset of the Civil War, approximately 4,000,000 people were enslaved in 15 states in this nation and the District of Columbia. It is far easier to find the preserved homes of those who enslaved than those who were enslaved. Despite demolition by neglect and willful intent to eradicate these buildings from the American landscape, some of these buildings still exist. These dwellings were built by the enslaved for the enslaved.
The narrative also fails to highlight the slavery that existed in northern states and the complicity that existed even after northern states abolished slavery within their boundaries.
Five years into the Slave Dwelling Project, the simple act of sleeping in slave dwellings is chipping away at that narrative and encouraging visitors, preservationists, historians, educators, students and others to create a new, more truthful and more comprehensive narrative, a narrative that honors all the people. The 3rd Annual Slave Dwelling Project will highlight best practices and develop additional ways in which we can use extant slave dwellings to change the narrative.
The Slave Dwelling Conference 2016 will be a historic event. The conference's mission is to convene attendees from around the United States and abroad to exchange ideas, resources, share perspectives and solutions to preserving extant African American slave dwellings for future generations. We will host interactive workshops that engage and inform participants. Presenters from the following areas should submit proposals to present:
Preservationists

Slavery Scholars

Cultural Heritage Organizations

Writers (Historic)

Film Producers
Archaeologists

Architects

Funders

Property Stewards
The Slave Dwelling Conference 2016 will feature: three days of concurrent sessions, keynote speakers, and an Artists Exhibition Hall.
WORKSHOP FOCUS AREAS
We will accept proposals for workshops that offer attendees innovative preservation programs, historical information on slave dwellings, fund development resources and future trends in preservation, including:
Extant Slave Dwellings in the US

U. S. National Register

Advocacy, Legislation and Change – Local, State, Federal

Fund Development in Preservation
Best Practices in Preservation

Sustainability

New Preservation Techniques
Workshop Format
Workshops will be one hour in length.

All will include a minimum of 20 minutes for questions, answers and discussion
Presenters must submit a 5 page maximum (includes cover) proposal by April 11, 2016.  Please use the cover form provided here and include a bio with your proposal.
Timeline
Proposals are due by Monday, April 11, 2016

Notification of acceptance by Monday, May 2, 2016

Deadline for presenter to accept is Monday, May 16, 2016
If your presentation is accepted, you will be required to create a power point of your presentation that will be made available to conference participants.
Selection Criteria
The following rubric will be used to evaluate all proposals in the referenced proposed review process:
Does the title abstract clearly describe this workshop?

Is the proposal topic timely and/or appropriate for the Conference's theme?

What is the workshop's outcome?

Will this workshop positively contribute to the conference and to the field?

Is the workshop designed to be interactive and engage the audience?

Is the workshop relevant to the conference?

Is there clarity in the workshop?

Is the workshop "audience appropriate"?
PLEASE SUBMIT PROPOSALS VIA EMAIL TO: slavedwellingproject@gmail.com
Please click here to view and print the proposal cover form.